Goedkoop auto huren Zuid-Afrika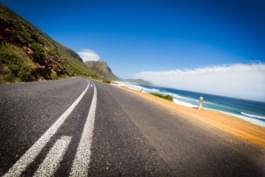 Onderweg in Zuid-Afrika
Een auto huren in Zuid-Afrika is een must. Dit is de enige manier om dit veelzijdige land zonder zorgen te verkennen. Omdat er soms grote afstanden tussen de afzonderlijke steden en bezienswaardigheden zijn, is het land ideaal voor een roadtrip of een rondrit met een huurauto. Of u nu de nationale parken wilt bezoeken, naar het strand in Camps Bay wilt gaan of Kaapstad wilt bezoeken: met een huurauto bent u altijd goedkoop, snel en flexibel onderweg.
Waar kan ik een auto huren in Zuid-Afrika?
In heel Zuid-Afrika vindt u tal van autoverhuurbedrijven waar u uw huurauto kunt ophalen en inleveren. Daarom kan de te volgen route individueel worden geregeld. U kunt bijvoorbeeld uw huurauto direct op de luchthaven huren, zodat u na de landing goedkoop en flexibel kunt wegrijden. Ook in de grote steden zoals Johannesburg en Kaapstad vindt u veel stations van de autoverhuur die u kunt kiezen.
Uitzicht over Johannesburg
U kunt uw huurauto ook op deze locaties ophalen:
Autohuur op Zuid-Afrika Luchthaven
Als u vanuit Europa naar Zuid-Afrika reist, is de beste manier om met het vliegtuig naar Zuid-Afrika te reizen. Het land heeft verschillende internationale luchthavens, zodat u zelf kunt bepalen in welke regio u uw roadtrip wilt beginnen.
Die wichtigsten Flughäfen in Südafrika
Grote luchthavens in Zuid-Afrika
Kan ik een auto huren in National Parks?
Als u tijdens uw vakantie in Zuid-Afrika de flora en fauna van het land uit de eerste hand wilt leren kennen, kunt u in het noordoosten naar het Kruger National Park gaan. Het grootste wildreservaat van het land is de thuisbasis van zebra's, leeuwen, olifanten, luipaarden, neushoorns, wildebeesten en vele andere diersoorten. Door het hele gebied lopen zowel geasfalteerde wegen als zand- en grindwegen. Er zijn ook tal van kampen en rustplaatsen waar u kunt stoppen.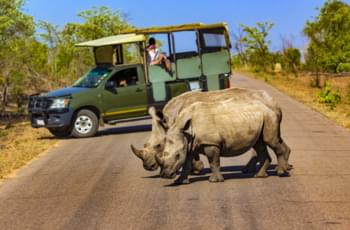 Neushoorns in het Kruger National Park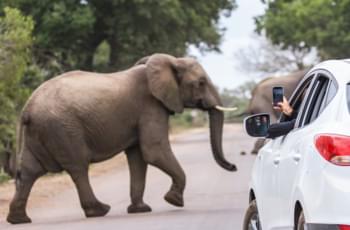 Olifanten in Kruger National Park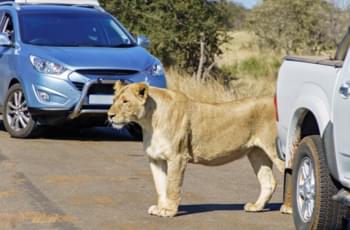 Leeuw in Kruger Nationaal Park
Met de huurauto naar de Tafelberg
Met een huurauto bereikt u goedkoop en comfortabel de Tafelberg, het herkenningspunt van Zuid-Afrika. De opvallende berg met het grote plateau behoort tot Kaapstad en bereikt een maximale hoogte van 1087 meter. U kunt uw huurauto het beste aan de voet van de berg parkeren en naar boven wandelen. U kunt ook de Tafelberg antenne kabelbaan op en neer nemen en genieten van het uitzicht over Kaapstad.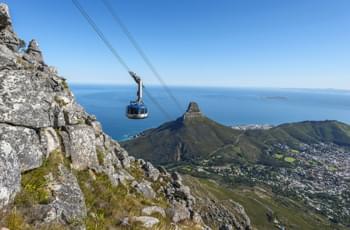 Kabelbaan naar de Tafelberg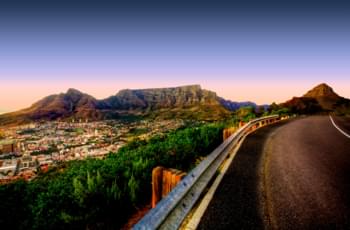 Gezicht op de Tafelberg
Autoverhuur Zuid-Afrika: Naar Themapark Gold Reef City
In Johannesburg kunt u naar het Gold Reef City vrijetijdspark, dat rond de schacht van een voormalige goudmijn is gebouwd. In het attractiegebied kunt u rijden op verschillende achtbanen en wildwaterbanen. Het is ook de moeite waard om het Goudzoekersmuseum te bezoeken, waar voor de gasten goudstaven worden gegoten. Er worden rondleidingen aangeboden in de omgeving van de mijn en de workshops. Om de goudkoorts van de 19e en 20e eeuw te doen herleven, dragen de medewerkers van het park historische kostuums.
Strandvakantie in Camps Bay in Zuid-Afrika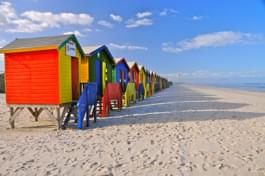 Kleurrijke huizen aan het strand van Muizenberg
De idyllische badplaats Camps Bay ligt direct aan de Atlantische kust ten zuiden van Kaapstad. Het strekt zich uit aan de voet van de indrukwekkende rotsformatie van 12 apostelen. De baai van de camping wordt ook gekenmerkt door een grote baai die bedekt is met fijn zand. Geniet van het heldere water, de zon en het uitzicht op de bergen in Camps Bay. Hier vindt u ook veel restaurants en bars met uitzicht op zee. Ook Muizenberg, een buitenwijk van Kaapstad, met zijn kleurrijke strandhuisjes is een bezoek waard.
Wat zijn de bijzonderheden van het wegverkeer?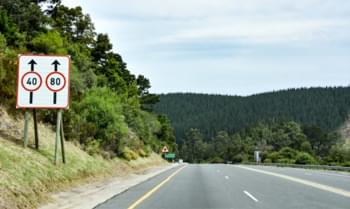 Let op de snelheidslimieten
Wie in Zuid-Afrika met een huurauto rijdt, moet er rekening mee houden dat er in het hele land links verkeer is. Daarom zit het stuurwiel ook aan de rechterkant van de auto. Wees voorzichtig, er zijn veel radarcontroles in Zuid-Afrika. Houd u aan de snelheidslimieten. Deze zijn 60 km/u in stedelijke gebieden en 100 km/u buiten stedelijke gebieden. U kunt tot 120 km/u rijden op de nationale wegen.
Autoverhuur Zuid-Afrika: Belangrijke parkeerregels voor auto's
Rode markeringen staan voor een absoluut stopverbod.
Gele markeringen staan voor een beperkt stopverbod.
Grote parkeerplaatsen worden beheerd door parkeerwachters, die de parkeerplaatsen huren en de bestuurder kosten in rekening brengen voor het parkeren.
Er zijn veel behulpzame bewoners in waarschuwingsvesten die de parkeersituatie regelen voor een kleine fooi.
Verzekering voor de Zuid-Afrikaanse huurauto
Als u een auto in het buitenland wilt huren, moet u ervoor zorgen dat u voldoende aansprakelijkheidsverzekering op het moment van boeking hebt. De aanbevolen minimumdekking is een miljoen euro. Nog beter zijn aanbiedingen met een verzekerd bedrag van 7,5 miljoen euro, wat overeenkomt met de Duitse standaard. Het is het beste om een uitgebreide dekking te nemen zonder eigen risico. Mogelijke aanvullende verzekeringen:
verzekering tegen diefstal
Verzekering voor banden en glas
Onderlichaamsverzekering
Kies voor een volledig uitgebreide verzekering zonder eigen risico bij het huren van een auto.
Als verzekering raden wij u aan om een uitgebreide dekking zonder eigen risico af te sluiten. In geval van schade bent u volledig verzekerd. In het geval van een volledige verzekering zonder eigen risico is er geen verzekeringspremie verschuldigd op het moment van de boeking. Als u een krasje of iets dergelijks veroorzaakt, zal de verhuurder eerst de kosten voor het herstellen van de schade aftrekken van de borg wanneer u de auto inlevert. Neem dan contact op met de autoagent en stuur de schadefactuur en het schaderapport tijdig naar het autoverhuurbedrijf. U vindt de termijnen in de huurvoorwaarden. De agent zal dan de aan u betaalde vergoeding terugbetalen.
Gebruik aanbiedingen voor eenrichtingsverhuur voor de huurauto in Zuid-Afrika
Om de volledige schoonheid en variëteit van Zuid-Afrika te leren kennen, is een individuele heen- en terugreis met een huurauto de moeite waard. U kunt zelf uw stations bepalen. Als u de auto op het ene punt wilt huren en op een ander punt wilt inleveren, kunt u gebruik maken van aanbiedingen voor eenrichtingsverhuur. Zo kunt u uw route flexibel plannen, zodat u niet naar het startpunt hoeft terug te keren als u dat niet wilt. Gebruik de eenrichtingsverhuur om goedkoop en ongebonden te reizen. Haal uw huurauto op bij een autoverhuurbedrijf naar keuze, bijvoorbeeld in Kaapstad direct op de luchthaven. Vervolgens rijdt u langs de kust naar Camps Bay en Port Elizabeth naar Durban. Als alternatief is een rondreis door het binnenland van Zuid-Afrika interessant, te beginnen in Johannesburg. Sommige verhuurders rekenen een eenmalige huurprijs aan op het moment van de boeking, andere bieden complete pakketten aan waarbij de service al in de prijs is inbegrepen. Gebruik de filterfuncties op Mietwagen-Check.de om auto's te vinden met aanbiedingen voor eenrichtingsverhuur.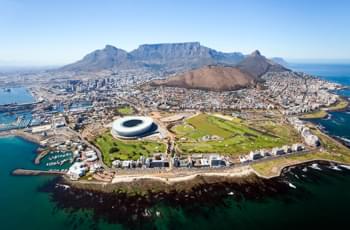 Gezicht op Kaapstad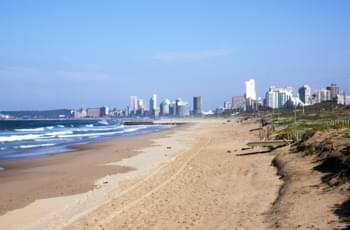 Kust van Durban
Extra bestuurder voor de huurauto in Zuid-Afrika
Als u een auto wilt huren in Zuid-Afrika en niet alleen reist, kunt u een begeleider boeken als extra bestuurder tegen een redelijke prijs. De extra bestuurder is dienovereenkomstig verzekerd, daarom kunt u om de beurt rijden. Wanneer u het voertuig huurt, moet de extra bestuurder aanwezig zijn en zijn rijbewijs en identiteitskaart op dezelfde manier tonen als de bestuurder. Op ons autoverhuur portaal vindt u tal van aanbiedingen waar een extra chauffeur al in de prijs is inbegrepen.