Auto huren Amsterdam
Zin om Amsterdam te ontdekken per huurauto? De hoofdstad van Nederland, Amsterdam, staat voor veel toeristen op de eerste plaats van steden die het bezoeken waard zijn. De eeuwenlange geschiedenis van de stad, met prachtige kanalen, meerdere musea en cultuurvoorzieningen biedt vermaak voor iedereen. Wanneer u een auto huurt kunt u alle plekken die de moeite waard zijn bezoeken. Vanaf Schiphol, de belangrijkste luchthaven van Nederland, bent u in slechts een kwartier in Amsterdam!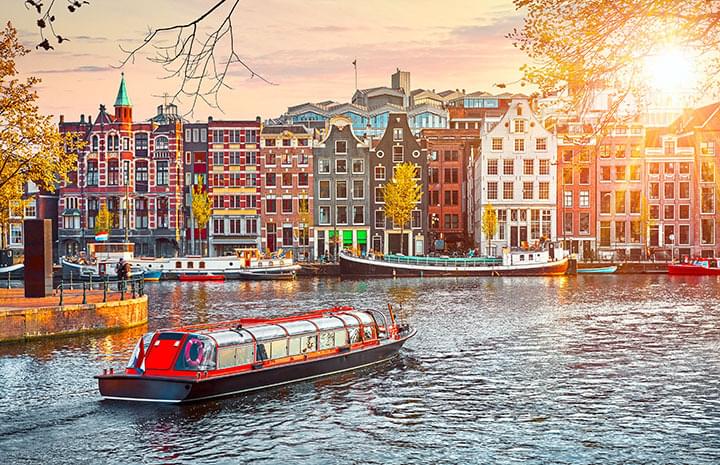 Kanaal met boot in Amsterdam bij zonsondergang
Welke auto heb ik nodig?
Er is natuurlijk enorm veel keuze op het gebied van auto's huren in Amsterdam. Wilt u een kleine of grote auto, moet de auto zuinig zijn en wat kunnen de verschillen zijn tussen de voorwaarden van de te huurauto's. Hierbij kunt u onder andere denken aan: een All-risk zonder eigen risico's, welke brandstof gebruikt de auto en hoe ver mag u ermee rijden. Uiteraard is het ook belangrijk om te weten hoeveel personen er in de auto moeten passen. In Nederland hoeft u in elk geval geen auto te huren met four-wheel-drive of andere bijzonderheden.
Waar kan ik een auto huren?
Bij Driveboo kunt u gemakkelijk zoeken waar u een auto kunt huren in en om Amsterdam. Er zijn heel veel plekken waar u een auto kunt huren om Amsterdam en omgeving mee te verkennen. Komt u aan per vliegtuig op Luchthaven Schiphol, dan vindt u talloze autoverhuurbedrijven die u graag een auto willen verhuren. Wilt u goed voorbereid aankomen in Nederland? Zorg dan dat u de huurauto al reserveert vóór u deze nodig heeft. Mocht u op het laatste moment een auto willen huren dan is het mogelijk dat de auto die u graag zou willen rijden niet meer beschikbaar is. Ook in Amsterdam zelf kunt u een auto huren, bijvoorbeeld op de Overtoom waar veel internationale autoverhuurders een verhuurlokatie hebben. Komt u per Cruise schip aan bij de Cruise Terminal? Daar kunt u ook een autohuur vestiging vinden. Komt u vanuit een andere plaats in Nederland, dan kun je beter op zoek naar een lokaal autoverhuurbedrijf.
Wilt u niet alleen in Amsterdam rondrijden maar ook andere steden in Nederland bezoeken? Dan kan dat per huurauto natuurlijk vrij gemakkelijk! Hieronder een overzicht van leuke steden met bijbehorende reistijd vanaf Amsterdam.
| Plaatsnaam | Reistijd |
| --- | --- |
| Den Haag | 60 minuten |
| Leiden | 45 minuten |
| Rotterdam | 65 minuten |
| Utrecht | 50 minuten |
| 's-Hertogenbosch | 65 minuten |
| Amersfoort | 50 minuten |
| Middelburg | 120 minuten |
Het kan verstandig zijn om rekening te houden met grote drukte rond deze steden. In Nederland is bijna dagelijks sprake van een behoorlijke ochtendspits tussen 7.00 en 9.00 en avondspits tussen 16.30 en 18.30. Dit geldt alleen op doordeweekse dagen.
Verkeersregels in Amsterdam
Rechts rijdend verkeer: ja
Toegestaan alcoholpromillage: 0,5 promille; beginnend bestuurder 0,2 promille
Bellen in de auto: alleen hands-free toegestaan
Verplicht in de auto: rijbewijs, kentekenbewijs
Maximaal toegestane snelheid in de stad: 50 km/h
Maximaal toegestane snelheid buiten de stad: 80 km/h
Maximaal toegestane snelheid op de autoweg: 100 km/h
Maximaal toegestane snelheid op de autosnelweg: 130 km/h
Ga met uw huurauto naar de Waddeneilanden
Een uniek stukje natuurgebied is te vinden op 70 minuten rijden van Amsterdam: het grootste Waddeneiland van Nederland: Texel. Vanaf Den Helder kunt u met of zonder uw huurauto in een boot naar Texel waar u heerlijk kunt wandelen over het strand of in het grote Nationaal Park Duinen van Texel. Bij mooi weer kunt u aan de ene kant van Texel de Waddenzee in, en aan de andere kant zwemt u in de Noordzee! Bij mooi weer is aan de overkant zelfs Engeland zichtbaar.
Amsterdam – veel te doen op rijafstand
Amsterdam zelf is natuurlijk al een geweldige historische stad waar veel te beleven valt. Prachtige grachten, oude herenhuizen, kerken en musea, een dierentuin en voor die liefhebbers coffeeshops. Maar met een huurauto kunt u gemakkelijk dagtrips maken naar veel van de grote steden die Nederland rijk is. Heeft u genoeg tijd, bezoek dan zeker ook de Loosdrechtse plassen. Hier kunt u terecht voor allerlei soorten watersport maar ook kunt u er heerlijk wandelen. U bent echt even helemaal weg uit de drukte in de binnenstad van Amsterdam. Het is niet moeilijk om met autoverhuur Amsterdam veel te zien van Amsterdam en omgeving. Als u het regelen van de huurauto op tijd doet komt u nooit voor onverwachtse en ongewenste verrassingen te staan.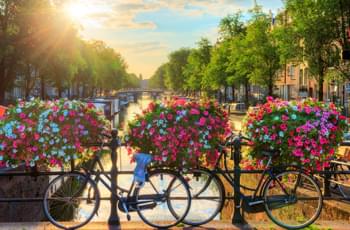 Fietsen door Amsterdam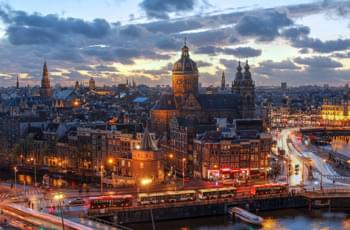 Amsterdam uit de lucht 's nachts