Autoverhuur Lissabon: hoofdstad en knooppunt van Portugal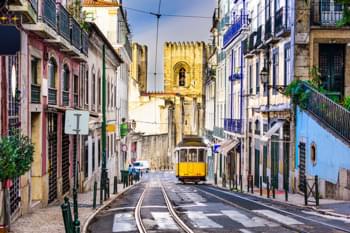 Lissabon is de hoofdstad van Portugal en de grootste stad van dit zonnige westelijke land. Een reis naar Lissabon in het verleden was ofwel duur, of het vergde meer sluwheid bij het zoeken naar gecombineerde verbindingen. Gelukkig kunt u er vandaag, dankzij goedkope luchtvaartmaatschappijen, zonder grote problemen en tegen een redelijke prijs komen. Als u denkt over het verkennen van de stad Lissabon zonder te vertrouwen op het openbaar vervoer, zult u blij zijn om te horen dat het huren van een auto in Lissabon goedkoop, snel en betrouwbaar is. Er zijn talloze aanbiedingen om uit te kiezen en de stad zelf heeft zoveel te bieden. Met Driveboo kunt u aanbiedingen van verschillende autoverhuurbedrijven in Lissabon vergelijken en een goedkope auto boeken voor uw vakantie in Portugal.
Een auto huren op een luchthaven in Lissabon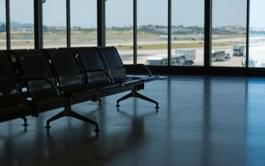 Het avontuur in Portugal begint meestal op de luchthaven van Lissabon (LIS), op slechts 7 km van het stadscentrum. Het is de grootste luchthaven in Portugal en wordt beschouwd als een uitgangspunt voor het verkennen van het land door vele reizigers. U vindt vele autoverhuur balies direct op de luchthaven. Afhankelijk of u een kleine auto, SUV of cabriolet wilt huren in Lissabon, zullen verschillende autoverhuurbedrijven geschikte aanbiedingen hebben. Het is ook voordeliger en dus ook aan te bevelen om vooraf een huurauto te boeken om zo te kunnen profiteren van lagere prijzen en een grotere keuze aan voertuigen.
Wat moet ik weten over het besturen van een huurauto in Lissabon?
Portugal is een van de populairste Europese bestemmingen voor zomerse road trips. Net als in het buurland Spanje, moet u voorbereid zijn op een aantal chaotische chauffeurs op straat. De rijstijl van de Portugezen is, zoals in veel zuidelijke landen, behoorlijk 'warmbloedig'. Bovenal is het aan te raden om de belangrijkste verkeersregels in Portugal te kennen. Bijvoorbeeld, alcohol limiet in Portugal is 0,5 en de verplichte inventaris in een huurauto bevat een veiligheidsvest.
Wat zijn de maximumsnelheden in Portugal?
| Maximumsnelheid voor auto's zonder aanhangwagen en motorfietsen | Maximumsnelheid |
| --- | --- |
| Binnen de bebouwde kom | 50 km/u |
| Buiten bebouwde kom | 90 km/u |
| Op autosnelwegen | 100 km/u |
| Op autosnelwegen | 120 km/u |
Net als in veel andere Europese landen zijn er tolheffingen nodig op de snelwegen in Portugal. Sinds 2011 vereist het rijden op de snelweg in Portugal een elektronisch betalingssysteem. U kunt kiezen uit vier systemen (Easy Toll, Toll Service, Toll Card en Via Verde Bezoeker). Als u met een huurauto in Portugal reist, hoeft u dit meestal niet te doen. De grote autoverhuurbedrijven rusten hun vloot uit met elektronische zenders. De kosten van het apparaat en de tol worden in rekening gebracht bij uw autoprovider. U betaalt gewoon de vergoedingen wanneer u de auto terugkeert. Als een dergelijke zender is geïnstalleerd, kunt u ook rijden op de Via Verde rijstroken met uw huurauto. Zo niet, dan moet u zelf de tol betalen en een van de bovenstaande opties kiezen.
Welke verzekering heb ik nodig voor mijn huurauto in Lissabon?
Volledige verzekering zonder niet-wavable eigen risico zal altijd de beste keuze zijn bij het boeken van een huurauto. Huurauto aansprakelijkheidsverzekering met voldoende dekking is ook noodzakelijk.
Ontdek de hoogtepunten en bezienswaardigheden van de stad Lissabon met een huurauto
Na een rustperiode in uw hotel kunt u genieten van zoveel mogelijk bezienswaardigheden van de stad. U kunt uw persoonlijke stadsrondrit plannen. Hier zijn enkele attracties van Lissabon die u zeker moet bezoeken met uw huurauto:
Christ the King Statue
Christ the King Statue
Geïnspireerd door de beroemde Christus de Verlosser in Rio de Janeiro, is deze unieke structuur ook een adembenemend uitkijkplatform. Eenmaal in Lissabon, niet te missen een kans om het te gebruiken als een uitkijkpost om deze pittoreske kustplaats te zien.
Torre de Belém
Torre de Belém
Torre de Belém is het symbool van de stad die is gelegen aan de poorten van het centrum van de stad. Een bezoek aan deze versterkte toren zal gemakkelijk zijn met een huurauto.
Klooster van Jerónimos
Klooster van Jerónimos
Vrijwel geen enkel ander gebouw kenmerkt het stadsbeeld zo duurzaam als dit klooster uit het begin van de 17e eeuw. Maak een spannende reis door de tijd in de musea van het klooster. Het archeologisch museum en het marinemuseum bevinden zich hier. Een stukje van de Portugese geschiedenis wordt tastbaar als je hier komt.
Cemiterio dos Prazeres
Cemiterio dos Prazeres
Een begraafplaats met een zeer bijzondere geschiedenis. Zijn talrijke graven zal uw adem weg te nemen. Bovendien biedt deze begraafplaats een ongelofelijk uitzicht over Lissabon.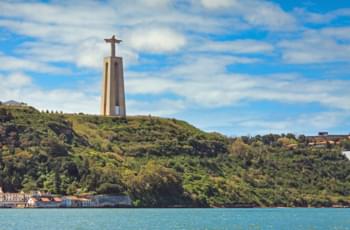 Christ the King Statue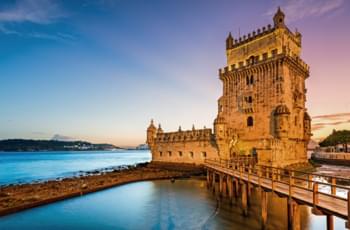 Torre de Belem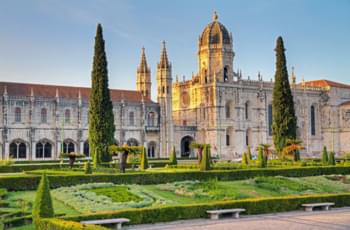 Kloster von Jeronimos
Een tour met een huurauto door de omgeving van Lissabon
Een auto huren voor een paar dagen is gemakkelijk in Lissabon en het is ook goedkoop. U kunt er heen en weer reizen naar plaatsen als Sintra, Cabo da Roca (meest westelijke punt van Europa) en Praia de Guincho. Portugal biedt een verscheidenheid aan landschappen en bezienswaardigheden waarvan u kunt genieten tijdens een tour met een huurauto. U kunt de dag afsluiten in een niet goedkoop maar zeer goed visrestaurant in de buurt van Guincho, of een duik nemen in het nachtleven van Cascais.
| Bestemming | Afstand met de auto in kilometers | Tijd |
| --- | --- | --- |
| Sintra | 32,9 km | 36 min |
| Cabo da Roca | 40,6 km | 48 min |
| Praia do Guincho | 33,9 km | 40 min |
| Cascais | 33,7 km | 42 min |