Autohuur Portugal - Ontdek een cultureel land in Europa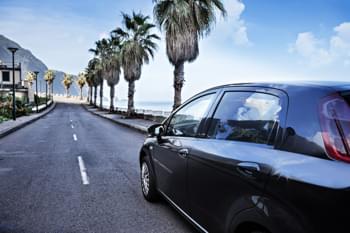 Ontdek Portugal met een huurauto
Portugal, dat volledig aan de Atlantische Oceaan ligt en grenst aan Spanje, is een van de kleinste landen in Europa qua oppervlakte, maar is nog steeds een populaire bestemming voor veel autoverhuurreizigers. Naast spannende bezienswaardigheden en geweldige excursiebestemmingen biedt Portugal een groot aantal minder bekende, maar zeer rustig gelegen, mooie hoekjes en plaatsen, die allemaal een bezoek waard zijn met uw huurauto. Het bloemeneiland Madeira en de Azoren met het vliegveld Ponta Delgada liggen ver in de Atlantische Oceaan. Met een huurauto op Funchal airport kunt u direct de adembenemende natuur van het eiland ontdekken.
Autohuur in Portugal vergelijken & opslaan
Het grote voordeel van een reis in of naar Portugal is dat Portugal, op enkele plaatsen na, niet onder het massatoerisme viel. Ideaal voor een autoverhuur reis in Portugal is een route langs de kust. Reis flexibel en gratis; start bijvoorbeeld in het noorden, rijd met de auto via Porto langs de kust via de hoofdstad Lissabon naar de prachtige Algarve en bezoek de stad Faro. Unieke kuststroken, slaperige vissersdorpjes, prachtige stranden en indrukwekkende natuur begeleiden u op uw reis. Vanwege de Atlantische Oceaan is Portugal vooral populair bij surfers en andere watersportliefhebbers. In de zomermaanden is Portugal ook geschikt voor uw zwem- en strandvakantie. Faro Airport is een populair startpunt voor road trips. Hoe zuidelijker u met uw huurauto reist, hoe warmer de temperatuur van het water wordt.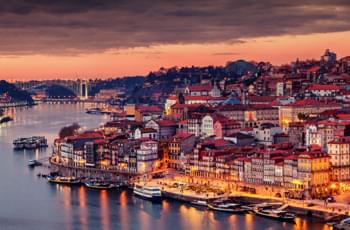 portokosten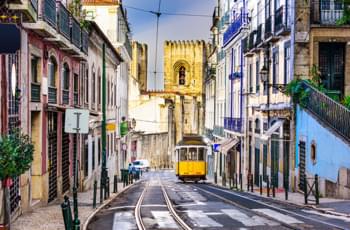 Lissabon
Een auto huren in Portugal - Tips
Auto mieten ohne Kreditkarte
Huur een auto zonder creditcard
U wilt een auto huren op vakantie in Portugal en heeft geen creditcard? Geen probleem, we werken ook met geselecteerde autoverhuurbedrijven die geen creditcard nodig hebben.
Option Zusatzfahrer
Optie extra bestuurder
Selecteer de optie extra bestuurder op het moment van de boeking en rijd om de beurt met de huurauto. Zo kan iedereen achterover leunen en genieten van het uitzicht.
Vollkasko ohne Selbstbeteiligung
Geheel compleet zonder overdaad zonder overdaad
Aangezien zelfs veilige bestuurders de huurauto kunnen beschadigen, raden wij u aan om een volledige verzekering af te sluiten zonder eigen risico. Zo heeft u in geval van schade geen verdere kosten en kunt u zorgeloos en stressvrij van uw reis genieten.
De populairste vakantieregio's in Portugal
Vlieg naar Madeira, de Azoren of maak een roadtrip langs de Algarve. De regio's Porto en Lissabon zijn ook populair bij autoverhuurders. Trouwens, je mag deze plaatsen niet missen:
Geniet van de natuur op de Portugese eilanden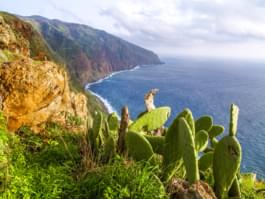 Madeira
Ver weg van het Portugese vasteland zijn ook de Azoren en Madeira een aanrader. De vulkanische Azoren, vooral populair bij wandel- en natuurliefhebbers, en het bloemeneiland Madeira met zijn prachtige landschap, zijn zeker de moeite waard om met de huurauto te bezoeken. Boek uw gewenste voertuig comfortabel van thuis uit en haal het direct na aankomst op de luchthaven op. Op deze manier kunt u vanaf het eerste moment optimaal van uw vakantie genieten.
Als u van plan bent een rondreis met een huurauto te maken, is het belangrijk dat u zich vooraf informeert over de tolregels, omdat deze in Portugal veel complexer zijn dan in andere landen. De hoogte van de kosten en gedetailleerde informatie vindt u in ons tollettertype.