Autohuur in Noord-Amerika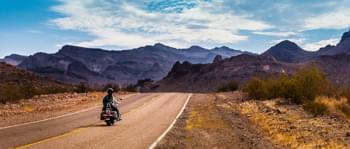 Onderweg in Noord-Amerika
In Noord-Amerika is er veel te ontdekken en daarom is er een groot aantal autoverhuurbedrijven. Om het juiste autoverhuurbedrijf in Noord-Amerika voor u te vinden, vergelijken we op onze website verschillende autoverhuur aanbiedingen voor u - voor autoverhuur en autoverhuur in USA en ook in Canada. Op een reis met een huurauto zult u getuige zijn van de uitgestrektheid en diversiteit van het Noord-Amerikaanse continent. Of u nu de ongerepte natuur van Canada verkent of de metropolen van de USA Huur een autoCheck biedt u op alle belangrijke luchthavens voertuigen van hoge kwaliteit van verschillende types en modellen voor uw reis door Noord-Amerika. Kies uw gewenste verhuurlocatie uit het grote aantal aangeboden stations en stel uw reisroute individueel en zelfstandig samen met de auto van uw keuze.
Grote luchthavens in Noord-Amerika
Ontdek de bezienswaardigheden van Noord-Amerika met een huurauto
Wie droomt er niet van het gevoel van vrijheid dat een roadtrip op Route 66 met zich meebrengt? Op het bijna 4000 kilometer lange traject van Chicago naar Los Angeles loopt de wereldberoemde weg door acht staten, langs wolkenkrabbers, bossen en woestijnzand. Noord-Amerika maakt indruk met adembenemende natuurgebieden, zoals de Niagara watervallen in de Canadese provincie Ontario of het panorama op de Rocky Mountains in het westen van het continent. Het verblijf in de Amerikaanse stad van de superlatieven, New York City, biedt daarentegen ook een onvergetelijke ervaring. Als een smeltkroes van verschillende culturen en mentaliteiten, creëert het een unieke sfeer. Met een huurauto kunt u ook eenvoudig lange afstanden afleggen en uw reis op elk moment flexibel plannen - of het nu gaat om een stedentrip of een rondreis. De zonnige staat Florida is ook bijzonder populair bij Duitse vakantiegangers. Hier is de huur van deMietwagens in Miami.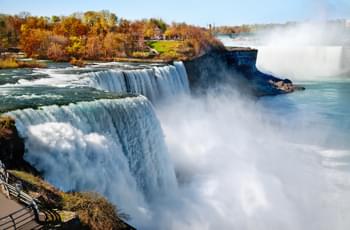 Niagara watervallen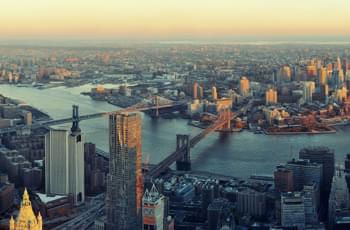 New York City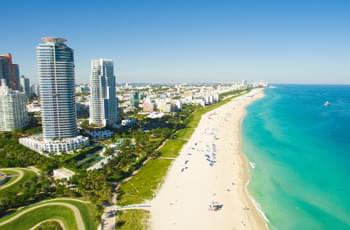 Miami Strand
Mit dem Mietwagen durch Alaska
Met een huurauto door Alaska
Alaska is de 49e federale staat USA en werd onderdeel van de USA. Alaska heeft zeer weinig inwoners vanwege het grote gebied, waardoor er nauwelijks openbaar vervoer is. Als u door Alaska wilt reizen heeft u uw eigen auto nodig. Vooral een stabiele huurauto met vierwielaandrijving en een zeer goede verzekering is aan te bevelen. Als u door Alaska rijdt, kijk uit voor wilde dieren die de straten oversteken zoals u dat wilt. Vooral de elanden vormen met hun snelheid, massa en grootte een gevaar voor de automobilist.
Roadtrip von Nevada nach Kalifornien
Roadtrip van Nevada naar Californië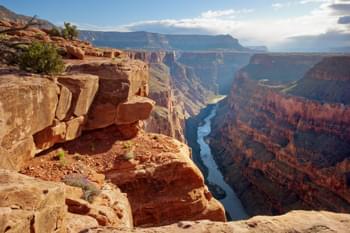 Grand Canyon Nationaal Park
Een populaire toeristische route is de Pacific Coast Highway in Californië. Als u echter iets meer tijd heeft, raden wij u aan om naar Las Vegas te vliegen. Huur een auto direct op de luchthaven en rijd naar uw hotel in de stad. Breng 2-3 nachten door in een stad die nooit slaapt, maak een wandeling door de uitgebreid ontworpen hotels, elk met een eigen motto, en bekijk een van de wereldberoemde shows in de avonduren. Met uw huurauto kunt u een excursie maken naar de Red Rock Canyon. Dit is slechts 20 minuten van de stad. Er zijn prachtige wandelpaden en u kunt de drukte van de stad een paar uur ontvluchten. Vanuit Las Vegas gaan we verder naar een van de beroemdste natuurspektakels van Amerika. In iets minder dan 4 uur bereikt u Flagstaff in Arizona met een huurauto. Op weg daarheen stopt u bij de Hoover Dam, direct op de grens tussen Nevada en Arizona. Het is de moeite waard om 2 nachten in Flagstaff door te brengen. Vanaf hier kunt u de Grand Canyon in korte tijd bereiken. Vanaf hier gaat de road trip verder naar Californië, San Diego. Vanaf hier kunt u de beroemde Highway 1 nemen richting San Francisco, naar de Golden Gate Bridge, en stoppen wanneer u maar wilt.
Schöne Reiseziele an der Ostküste von Amerika
Prachtige bestemmingen aan de oostkust van Amerika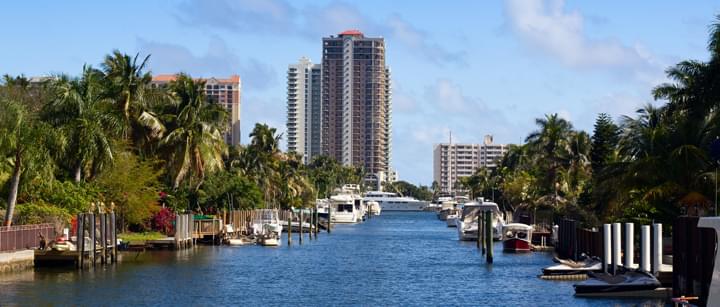 Fort Lauderdale
Met de goedkope USA huurauto daarna:
Waarop moet u letten bij het huren van een auto in Noord-Amerika?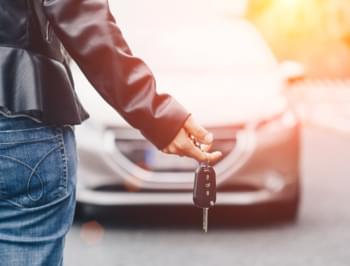 Huur een goedkope huurauto om het land van de Verenigde Staten te verkennen. Noord-Amerika is een van 's werelds populairste bestemmingen voor road trips. Om een goede prijs te garanderen, raden wij u aan uw huurauto zo vroeg mogelijk te reserveren. Dankzij de vroege boeking profiteert u van lagere prijzen. Daarnaast raden wij u aan uw auto direct op de luchthaven te huren, zodat u direct na uw vlucht in de huurauto kunt stappen en uw rondreis door het land kunt beginnen. Het wordt aanbevolen dat u een internationaal rijbewijs heeft bij het huren van een auto in Noord-Amerika. De verkeersregels in de USA en Canada zijn vergelijkbaar met de Duitse en zijn vooral op de snelwegen streng gecontroleerd. Hier geldt een strikte snelheidslimiet. Meer dan 120 (USA) of 100 (Canada) kilometer per uur mag niet meer dan 120 ( ) of 100 (Canada) kilometer per uur worden gereden, zelfs niet op meerbaanswegen. In Noord-Amerika is er ook geen rechts-voor-links bestuur. Bij zogenaamde 4-wegsborden kan de auto die als eerste op de kruising stond als eerste rijden. Ook moet worden opgemerkt dat de meeste voertuigen in Canada USA en Canada zijn uitgerust met automatische transmissie.
Wat zijn de verschillen waarmee rekening moet worden gehouden? Autoverhuur Canada of autoverhuur USA?
Als de huurauto de grens tussen Canada en de andere landen mag USA overschrijden, raadpleeg dan de desbetreffende huurvoorwaarden van de aanbieder.
| ongelijkheden | Canada | USA* |
| --- | --- | --- |
| Snelheid Binnenhavens | 50 km/h | 25-35 mph. |
| Snelheid op de snelweg | 100 km/u | 65-70 mph |
| Snelheid landweg | 80 km/h | 55 mph |
| bloed-alcoholgrenswaarde | 0,5-0,8 per duizend (afhankelijk van de provincie) | 0,1-0,8 per mille** |
| Goed om te weten.... | Er mag zich geen open alcohol in het bestuurderscompartiment bevinden. | Rechts afslaan bij rood licht is in de meeste staten toegestaan. |
* Voorbeeld in de staat Californië. De regelgeving verschilt per staat.
** Afhankelijk van onder andere de leeftijd van de bestuurder.
De snelheden worden in mijlen per uur USA aangegeven op de verkeersborden en op de snelheidsmeter van de huurauto. In Canada daarentegen, in kilometers per uur.