Autohuur San Francisco Luchthaven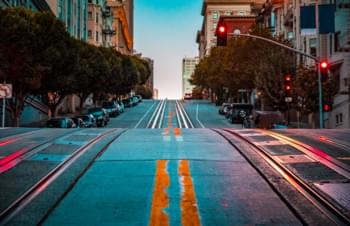 Onderweg in San Francisco
Geniet van legendarische road trips door Californië en start uw reis met een huurauto op San Francisco Airport. Wij raden u aan uw huurauto online te reserveren voor uw reis. Profiteer van vroegtijdige boekingsprijzen en onze transparante autoverhuurvergelijking.
Elke bezoeker aan de Verenigde Staten zou een deel van zijn verblijf in San Francisco moeten doorbrengen. De metropool in Californië fascineert elk jaar talloze mensen uit de hele wereld met zijn aangename klimaat, vele bezienswaardigheden en bijzondere flair. De meesten van hen komen aan op de luchthaven en nemen een geschikte huurauto bij een autoverhuurbedrijf van hun keuze om in de stad te komen. Hoewel San Francisco City met ongeveer 800.000 inwoners veel beter beheersbaar lijkt dan bijvoorbeeld Miami of New York, zijn de afstanden tussen de individuele hoogtepunten toch vrij groot.
Autoverhuur op San Francisco Luchthaven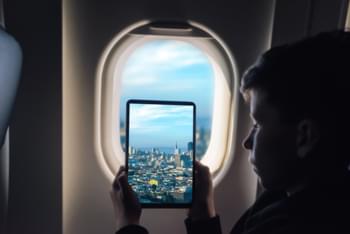 Uitzicht vanuit het vliegtuig naar San Francisco
Vergelijk de aanbiedingen van verschillende autoverhuurbedrijven op San Francisco Airport. Wij werken met alle grote autoverhuurbedrijven in Californië. Bij de volgende autoverhuurbedrijven kunt u uw huurauto online bij ons boeken:
Alamo huurauto's
Avis Autoverhuur
Europcar
hertz
U kunt een auto huren bij een van de bovenstaande autoverhuurbedrijven en uw auto online boeken op de luchthaven van San Francisco met behulp van de autoverhuur Check prijsvergelijking. Het idee om een goedkope auto te huren op San Francisco International Airport (International Airport SFO CA) is voordelig. De huurauto brengt u van het vliegveld naar het hotel, naar de Golden Gate Bridge en naar elke wijk van de metropool of naar een van de uitkijkpunten op de heuvels van de buitenwijken.
Informatie over San Francisco Luchthaven SFO
De internationale luchthaven van San Francisco kan terugkijken op bijna 100 jaar geschiedenis. Het werd geopend onder de naam Mills Field Muncipal Airport in 1927. Destijds landden de weinige reizigers echter op een gebied dat slecht was voorbereid op het luchtverkeer; er was noch een aankomsthal, noch een autoverhuur of andere faciliteiten die vandaag de dag als vanzelfsprekend worden beschouwd. De stap naar de internationale luchthaven van San Francisco vond pas plaats in 1955, sindsdien zijn de passagiers behandeld in vier terminals, waarbij de terminal is gereserveerd voor vier internationale reizigers uit Europa, Azië en Afrika.
Vanaf de luchthaven van San Francisco vliegen USA 22 nationale luchtvaartmaatschappijen naar meer dan 60 steden, 27 internationale luchtvaartmaatschappijen bedienen 32 internationale bestemmingen. Elk jaar landen er SFO ongeveer 37 miljoen reizigers op of vertrekken ze vanaf de internationale luchthaven. Informatie over alle relevante onderwerpen, zoals autoverhuur, wordt in verschillende talen verstrekt en er zijn tolken beschikbaar via een telefonische hotline.
Aankomst op de luchthaven van San Francisco: Goedkope autoverhuur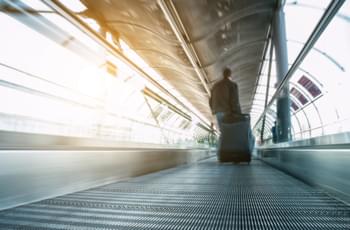 Met de bagage direct naar de autoverhuur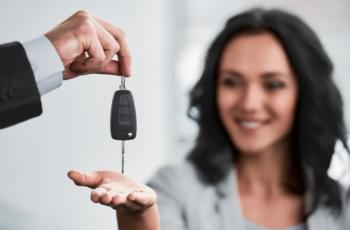 Meer flexibiliteit met een huurauto
Als passagier die uit het buitenland komt, komt u aan in terminal vier en uw eerste weg leidt naar de paspoortcontrole in de aankomsthal. Vervolgens haalt u uw bagage op bij de betreffende loopband en komt u door de Amerikaanse douanecontrolezone. U zult dan waarschijnlijk uw gereserveerde huurauto willen ophalen bij het autoverhuurbedrijf van uw keuze. Het gebouw waarin de autoverhuurbedrijven zijn gehuisvest, bevindt zich buiten de internationale terminal.
Elk autoverhuurbedrijf is blootgesteld aan aanzienlijke concurrentie op de luchthaven van San Francisco. U kunt uw favoriete auto dus meestal zeer goedkoop huren, hoewel er rekening moet worden gehouden met andere voorwaarden. Vooral voertuigen van de compacte klasse zijn goedkoop te huren. Het zal iets duurder zijn als de favoriete auto een pick-up is, SUV of VAN zou moeten zijn.
Autoverhuur San Francisco Luchthaven SFO: Belangrijke informatie
Mindestalter
minimumleeftijd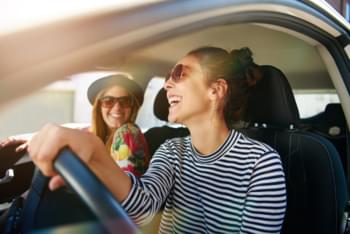 Let op de minimumleeftijd.
Welke leeftijd heeft uw huurauto nodig voor de gewenste huurauto? De vraag moet worden verduidelijkt op het moment van de reservering, zoals bijna elke autohuur aanwezig op San Francisco International Airport is vereist om ten minste 25 jaar oud te zijn. Er zijn echter enkele uitzonderingen, zoals de aanbieder Alamo. Bij dit bedrijf kunt u al op 21-jarige leeftijd een auto huren tegen een lage prijs, maar er geldt een verzekeringstoeslag van 25 dollar per dag.
Uw autoverhuurbedrijf op de luchthaven SFO zal waarschijnlijk huren u een auto zonder kilometerbeperking. Het is echter niet zeker dat de gewenste verzekering al in de huurprijs is inbegrepen. Huur daarom op ons portaal uw auto gunstig en inclusief de optimale verzekering. Als u uw huurauto via een Amerikaanse website boekt, wordt u alleen geadviseerd om een volledige uitgebreide verzekering (CDW) en uitgebreide aansprakelijkheid (EP) af te sluiten, beide polissen zijn standaard bij ons.
Zusatzfahrer
extra bestuurder
Wilt u alleen met de huurauto rijden of moet er een extra bestuurder worden geregistreerd? Als u een extra bestuurder boekt, kunt u om de beurt de huurauto besturen. Zo kan iedereen achterover leunen en genieten van het landschap.
Einwegmiete
eenrichtingshuur
Wilt u uw auto ophalen bij de juiste opstapplaats op de internationale luchthaven SFO en terugbrengen naar de opstapplaats op een andere luchthaven? U moet dit aspect ook verduidelijken met uw autoverhuurder, anders kan een relatief dure eenrichtingsverhuur noodzakelijk zijn.
Let op de volgende criteria in het ophaalstation op de volgende punten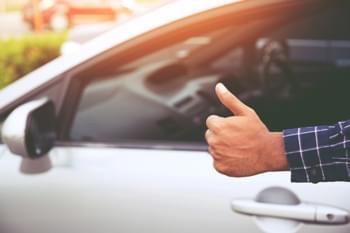 Controleer de staat van de huurauto op voorhand
Zeker als u een auto kunt huren voor een goede prijs, moet u de staat van de auto bij het opstappunt goed in de gaten houden. Zijn de remmen, verlichting en andere bedieningselementen functioneel en ziet de huurauto er goed onderhouden uit? Nu moet u nu ten laatste uw autoverhuurbedrijf vragen over de brandstofregeling. Als u het voertuig met een volle tank wilt ophalen en in dezelfde staat wilt terugbrengen, moet er een tankstation in de buurt van San Francisco Airport SFO beschikbaar zijn. Wij hebben alles in het werk gesteld om informatie hierover te verkrijgen en kunnen u positieve antwoorden geven.
Is er een benzinestation op de luchthaven van SFOSan Francisco?
| benzinepomp | Afstand van San Francisco Luchthaven |
| --- | --- |
| 76 Benzinestation | 4,6 km |
| Arco-tankstation | 9 km |
San Francisco Luchthaven: Plaatsen om te bezoeken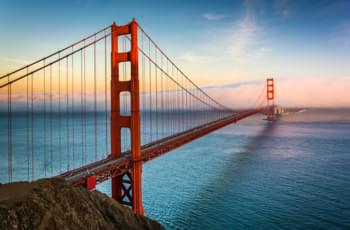 Gouden Poortbrug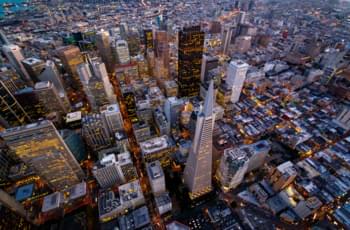 Uitzicht over San Francisco Downtown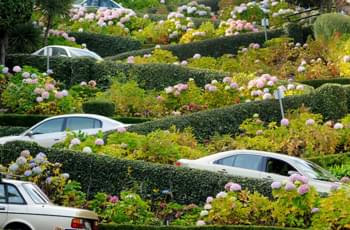 Lombardstraat
Op de internationale luchthaven SFO CA kunt u goedkoop en zonder kilometerbeperking een auto huren en heeft u uw hotel in het centrum gekozen als vertrekpunt voor verkenningen. Vervolgens wilt u waarschijnlijk de attracties van de Californische metropool ontdekken. Daarom is het noodzakelijk dat u naar de Golden Gate Bridge of het nabijgelegen Golden Gate Park rijdt. Beide bestemmingen liggen op slechts enkele kilometers van het centrum van de stad en bieden spannende impressies die vergezeld gaan van een betoverend mooi beeld.
Zelfs als u uw auto op de luchthaven van San Francisco voor een zeer goedkope prijs huren kon, moet u liever bepaalde bestemmingen te voet of met de kabelbaan verkennen. Deze omvatten de heuvels in het noordoosten en de dichtbevolkte binnenstad. Sommige wegen nodigen u echter uit om met een huurauto te rijden. Lombard Street in het bijzonder neemt je mee over de heuvels van de metropool, soms met een zeer steile helling.
Meer bestemmingen voor autoverhuur in San Francisco
De stad Sacramento, ongeveer 170 kilometer ten noorden van San Francisco, biedt zoveel hoogtepunten dat één dag niet genoeg is om het te ontdekken. Kies daarom een hotel en blijf daar een paar dagen.
Ten zuiden van de internationale luchthaven SFO ligt de badplaats Santa Cruz, op ongeveer 110 kilometer afstand. Geniet van de fantastische flair van de stad met zijn karakteristieke kenmerken, kies een aantrekkelijk hotel en ontspan in een gevarieerde omgeving.
Als natuurliefhebber moet u een paar dagen doorbrengen in het opwindend mooie Yosemite National Park. U kunt hem in ongeveer vijf uur met een huurauto bereiken en een geschikt hotel bij hem in de buurt vinden.