Huur een auto in Palma de Mallorca en ontdek de hoofdstad van het eiland
Palma de Mallorca, de hoofdstad van het Spaanse eiland Mallorca aan de Middellandse Zee en zetel van de autonome regering van de Balearen, is een bekende vakantiebestemming voor veel Europese toeristen.
Het eiland Mallorca zelf wordt vaak geassocieerd met zon, stranden en feesten. Palma de Mallorca biedt echter veel, veel meer. Daarom moet u uw vakantie niet alleen doorbrengen op het strand, wanneer in de stad en de charmante omgeving er zoveel te ontdekken is. Dus, als u zo veel mogelijk van Palma de Mallorca, evenals de omgeving en attracties wilt verkennen, is het raadzaam om een huurauto te boeken. Met Driveboo, bent u aan het juiste adres voor kundig en transparant advies voor het vergelijken van aanbiedingen van veel verschillende autoverhuurbedrijven en kies degene die aan uw wensen en eisen voldoet.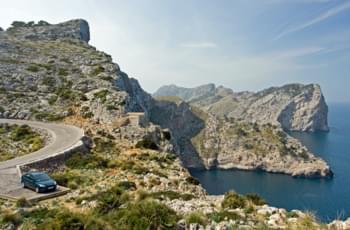 Ontdek de prachtige omgeving rond Palma de Mallorca.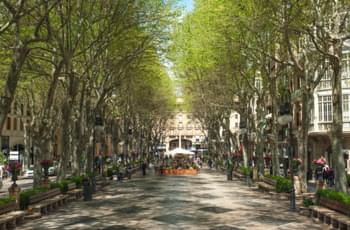 Boulevard in Palma de Mallorca.
Haal een huurauto op het vliegveld van Palma de Mallorca
Palma de Mallorca Luchthaven (PMI) is de derde grootste luchthaven in Spanje. Locaties van verschillende autoverhuurbedrijven zijn direct beschikbaar op de luchthaven, zodat u uw huurauto direct na aankomst kunt ophalen en uw Spaanse vakantie kunt beginnen. Tevens zijn er met een shuttle bus nog meerdere autohuurverhuurders makkelijk bereikbaar op korte afstand van het airport. De hoofdstad van Mallorca ligt op slechts negen kilometer afstand.
| Luchthaven | IATA-Code | Afstand tot het stadscentrum tussen luchthaven |
| --- | --- | --- |
| Palma de Majorca | PMI | 9 km |
Vooral in de zomermaanden, wanneer veel vakantiegangers een huurauto willen boeken, kunt u het beste uw huurauto voor Palma de Mallorca op Driveboo ruim van tevoren boeken. U bespaart op de autohuur boeking en krijgt betere deals dan ter plaatse mogelijk zouden zijn. Tijdig en goed plannen is altijd de veiligste en goedkoopste optie.
Verzekering voor autohuur in Palma de Mallorca
Alle autoverhuurbedrijven in Spanje bieden extra verzekering voor hun voertuigen. U moet altijd kiezen voor een verzekering voor uw eigen bescherming. Het is zeker aan te raden om te kiezen voor een volledige verzekering met een volledig afkoopbaar eigen risico.
In Spanje zijn huurauto's ook verplicht om een brandverzekering en aansprakelijkheidsverzekering af te sluiten.
Wat zijn de snelheidslimieten op Mallorca?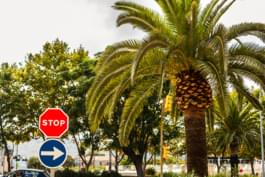 Ontdek Palma de Mallorca met uw huurauto.
In Spanje zijn er verschillende snelheidslimieten voor elk type weg en voertuig. In onderstaande tabel hebben we de limieten voor personenauto's opgenomen:
| Wegtype | Maximumsnelheid |
| --- | --- |
| Autosnelweg | 120 km/u |
| Autoweg, buiten bebouwde kom | 100 km/u of 90 km/u |
| Gebieden binnen de bebouwde kom | 50 km/u |
Wettelijke alcohollimiet tijdens het rijden in Palma de Mallorca
Het wettelijk toegestane alcoholgehalte in het bloed bedraagt 0,05% (alcoholgehalte in de adem: 0,25 mg/l) en 0,03% (alcoholgehalte in de adem: 0,15 mg/l) voor bestuurders met minder dan twee jaar ervaring.
Welke alarmnummers moet ik weten bij het huren van een auto in Palma de Mallorca?
| Noodsituatie | Telefoonnummer |
| --- | --- |
| Alle noodgevallen | 112 |
| Ambulance | 061 or 112 |
| Brandweer | 511 or 112 |
| Lokale politie | 092 |
| Nationale politie | 091 |
| Hulplijn voor het toerisme en noodgevallen | +34 902 102 112 |
Ontdek Palma de Mallorca met een huurauto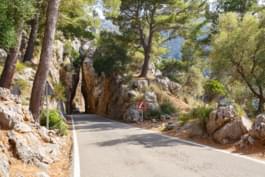 Boek een voordelige huurauto en verken Palma de Mallorca.
Een trip door de stad Palma de Mallorca is veel gemakkelijker en handiger met een huurauto. Tijdens het rijden in Palma de Mallorca met een huurauto, zult u kunnen genieten van een rit door de straten met rijen palmbomen.
U kunt een cabriolet huren om de ervaring nog spannender te maken.
Bezoekers van Palma de Mallorca mogen de oude stad niet missen. De monumentale huizen getuigen van een mediterrane flair die bezoekers van de drie Balearen van Mallorca, Ibiza en Menorca fascineert. Veel voormalige paleizen zijn inmiddels uitgegroeid tot charmante appartementen en hotels. Toeristen die hier een kamer boeken, kunnen rekenen op een onvergetelijke charme en flair. Er zijn hier ook in totaal 31 kerken. De meeste zijn gebouwd in gotische stijl.
Ook het stadhuis van Palma de Mallorca is de moeite waard voor een bezichtiging. De gevel is versierd met rijke decoratieve details uit de barok en de renaissance. Een populaire fotomoment is het donkere dak van het stadhuis met zijn gebeeldhouwde figuren.
Ontsnap aan de stad en ontdek de omgeving van Palma de Mallorca met uw huurauto
Tijdens een vakantie in Mallorca kunt u ontsnappen aan de drukte van de hoofdstad. Als dit het geval is, kunt u eenvoudig uw huurauto nemen en over het eiland rijden naar nog meer afgelegen stranden. Toegegeven, er zijn nauwelijks lege stranden op Mallorca. Echter, u vindt er nog steeds sommige gebieden om op een ongestoorde manier te ontspannen. Deze zijn goed bereikbaar met een huurauto.
Een voordeel van het rijden rond Mallorca is dat de excursie bestemmingen meestal kunnen worden bereikt in een acceptabele rijtijd. Tijdens het reizen met een huurauto, hoeft u nooit meer dan max. 1-1,5 uur te rijden om een bepaalde bestemming op het eiland te bereiken. Dagtrips op Mallorca zijn ook perfect voor het doorbrengen van een aantal rustige dagen op het strand.
Een voorbeeld van een prachtige baai is Cala Figuera, in het noorden van het eiland. Het gebied is bijna onontdekt gebleven door toeristen. Het ligt aan het einde van de tangens tussen Palma in het zuiden en Port de Pollenca in het noorden. Het kan dus even duren om er te komen, maar het is de moeite van het rijden meer dan waard. In minder dan een uur bereikt u de kleine baai en kunt u in alle rust ontspannen op het strand. Het is ook erg leuk om een huurauto te boeken en het wat ruigere maar rustigere Noorden te bezoeken.
Plaatsen die ook de moeite waard zijn om te bezoeken zijn Cap Formentor of Cala Murta. De Routes ernaar toe zijn bochtig; wat voorkomt dat sommige toeristen de trip met een huurauto maken. Echter, u moet niet vrezen om uw angst te overwinnen want u vindt hier een aantal van de mooiste plaatsen op het eiland.
| Bestemming | Afstand met de auto in kilometers | Tijd |
| --- | --- | --- |
| Cala Figuera | 59.2 km | 54 min |
| Pollença | 58.0 km | 47 min |
| Cap Formentor | 84.4 km | 1 h 25 min |
| Cala Murta | 78.4 km | 1 h 13 min |