Zon tanken in Mallorca - goedkoop met de huurauto
Mallorca is een eiland dat behoort tot Spanje, het behoort tot de Balearen en ligt in de Middellandse Zee. Palma is niet alleen de hoofdstad van dit eiland, maar ook van Ibiza, Formentera, Menorca en Cabrera. met een huurauto op Mallorca kunt u het eiland ontdekken. Mallorca is ongeveer 3.600 km2 en heeft bijna 900.000 inwoners, een derde van hen woont in de metropool Palma. Veel toeristen komen naar het eiland met het vliegtuig en het land op Palma de Mallorca PMI Luchthaven. De gemakkelijkste manier om uw huurauto te boeken is door het op te halen op PMI airport. Onmiddellijk na uw aankomst bent u flexibel en mobiel onderweg op Mallorca.De drijvende krachten zijn een aangenaam klimaat, fantastische landschappen, diverse vrijetijdsactiviteiten, een aantrekkelijke keuken en historische bezienswaardigheden.
Huur een auto op Mallorca: Begin uw reis in Nederland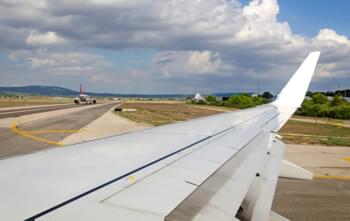 vliegtuigen op PMI
Vanuit Nederland bent u in ongeveer twee uur op het Baleareneiland. Om ze in al hun schoonheid te ontdekken, heeft u bij voorkeur een huurauto op ons portaal geboekt. Met de auto komt u eerst aan in Palma. De stad Palma ligt op slechts acht kilometer afstand van Airport Mallorca (PMI). Hieronder vindt u enkele suggesties over hoe u uw vakantie op Mallorca zou kunnen maken met een huurauto.
Waar kan ik een auto huren op Mallorca?
Ontdek Mallorca met een huurauto: Het zuidoosten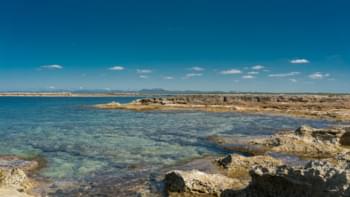 Als u het eiland vanuit het oorspronkelijke, traditionele perspectief wilt ervaren, moet u uw huurauto naar het zuidoosten sturen. De regio is grotendeels onontwikkeld voor toerisme, weinig bezocht, maar zeer gastvrij en zeer de moeite waard om te zien. Het kleine dorp van Vallgornera biedt aantrekkelijke zwemmen in het midden van ongerepte natuur. Hier toont Mallorca zijn contemplatieve kant. Rustige sfeer en uitnodigende sfeer worden ook aangeboden in Colònia de Sant Jordi en Cala Figuera. Beide dorpen hebben relatief lege zandstranden, omgeven door bossen. U bereikt het zuidoosten van Mallorca met een huurauto vanaf Palma via de weg naar PMI airport en dan volgt u de borden naar Santanyi. Het kleine stadje met zijn historische oude stad biedt u tal van bezienswaardigheden en een rustig zandstrand.
Tabel bezienswaardigheden Mallorca
Afstandstabel bezienswaardigheden Mallorca
Huur een auto om het westen van Mallorca te verkennen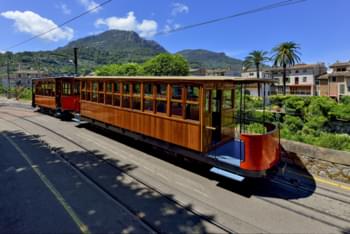 Vanuit de hoofdstad lopen verschillende wegen door de Serra Tramuntana naar het westen van Mallorca. Het kunstenaarsparadijs Deià, het bergdorp Valldemossa, de districtshoofdstad Sóller en het pittoreske vakantieoord Fornalutx zijn de moeite waard. Alle bestemmingen geven je een fantastisch inzicht in het originele Mallorca en zijn daarom interessante alternatieven voor de shooter. De meest populaire voertuigcategorieën om het eiland te ontdekken zijn:
Huur een cabriolet op Mallorca

Huur een Scooter Mallorca

Huur een sportwagen op Mallorca
Ontdek het binnenland van Mallorca met een huurauto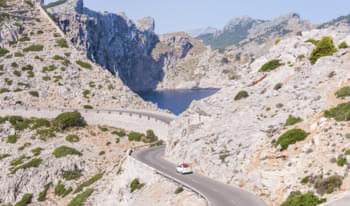 Neem de huurauto tijdens een rondrit over het eiland, meestal goed aangelegde wegen met uitzicht op de zee rond Mallorca of naar het al even charmante centrum van het eiland. In het midden is het stadje Inca het startpunt voor ontdekkingstochten. Elke donderdag vindt hier in het centrum de grootste markt van Mallorca plaats. In deze context, vraag uw autoverhuurbedrijf over andere waardevolle bestemmingen.
Autoverhuur Mallorca: The insurance details
Wij bij Driveboo raden u aan een auto te huren op Mallorca met "volledig vrijblijvend / met restitutie van eigen risico". Als u al de verzekering online boeken, de verzekeringsdekking is meestal beter en ook goedkoper dan als u een lokale verzekeringspolis bij het autoverhuurbedrijf op Mallorca. Heeft u al een verzekering bij de huurauto's via Driveboo geboekt, dan heeft u meestal geen verzekering nodig bij het lokale autoverhuurbedrijf. Helaas proberen zij vaak om u in een verzekering te praten die u helemaal niet nodig hebt, omdat u al verzekerd bent. Meer informatie over hoe u Kost vallen op Mallorca kunt u ook vermijden in onze blog.
Huurauto Mallorca: Een geldige creditcard is belangrijk
Indien u een auto wilt boeken en ontvangen op de PMI luchthaven, moet u meestal een creditcard hebben. Waarom? Elke provider geeft u alleen de auto op storting, die hij blokkeert op uw creditcard. Er zijn echter ook aanbiedingen voor Mallorca zonder creditcard, hier moet u een borg in contanten betalen, die u terug krijgt na het retourneren van de car.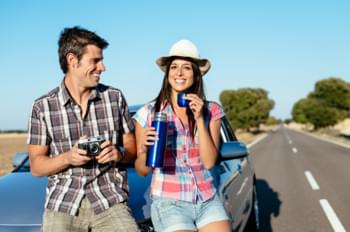 Paar op reis met autohuur op Mallorca
1 of meerdere personen aan het stuur?
U moet overwegen om beurten met de huurauto te rijden voor het huren, idealiter voor het boeken. Als dit het geval is, raden wij aan om voor aanbiedingen met een tweede stuurprogramma te filteren voordat u boekt. Bij het boeken van een offerte met een tweede bestuurder, hoeft u geen extra kosten te betalen voor het invoeren van de tweede bestuurder in het huurcontract bij het huren van een auto op Mallorca.