Huurauto Midden-Amerika: Flexibel en onafhankelijk onderweg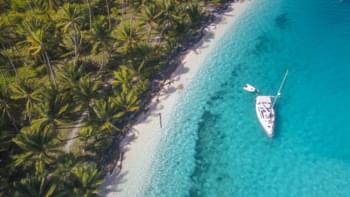 Eenzaam zandstrand in Midden-Amerika
Midden-Amerika fascineert met zijn paradijselijke stranden, het regenwoud met zijn rijke soortenrijkdom en de levensvreugde van zijn inwoners. Tijdens een tour met een huurauto ervaart u de verschillende culturele invloeden uit Europa, Afrika en Zuid-Amerika, die het subcontinent in de kleinste ruimte verenigt. AutohuurCheck biedt u voertuigen van hoge kwaliteit van verschillende types en modellen voor uw reis door Midden-Amerika op alle belangrijke luchthavens. Kies uw gewenste vertrekpunt uit het grote aantal aangeboden stations en stel uw route individueel en in uw eigen tempo samen. Verheug u op een onvergetelijk avontuur met een huurauto in Midden-Amerika.
Autoverhuur Midden-Amerika: Waar kan ik mijn huurauto krijgen?
Afhankelijk van de landen in Midden-Amerika die u wilt bezoeken, kunt u uw huurauto op verschillende locaties ophalen. In de volgende tabel vindt u een overzicht van alle landen in Midden-Amerika en de steden waar auto's worden gehuurd.
De juiste verzekering voor uw reis door Midden-Amerika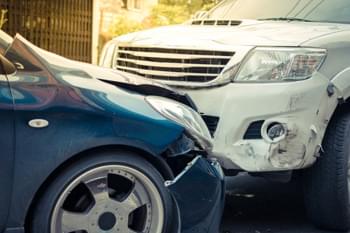 Kies een uitgebreide dekking zonder eigen risico
In Midden-Amerika zijn de wegen niet altijd in goede staat. Zelfs als u een competente en veilige bestuurder bent, kunnen er ongelukken of schade aan de huurauto gebeuren. Om ervoor te zorgen dat u in een dergelijke situatie toch van uw vakantie kunt genieten, raden wij u aan om een volledige verzekering af te sluiten zonder eigen risico. U dient dus de kosten voor de schade voor te schieten, maar u wordt achteraf terugbetaald. U hoeft alleen maar alle benodigde papieren en documenten in te dienen bij uw verzekeringsmaatschappij.
Ontdek de bezienswaardigheden van Midden-Amerika met een huurauto
De verschillende landen en regio's van Midden-Amerika bieden mogelijkheden voor een ontspannende zwemvakantie of spannende avontuurlijke reizen. Laat u inspireren door de volgende tips: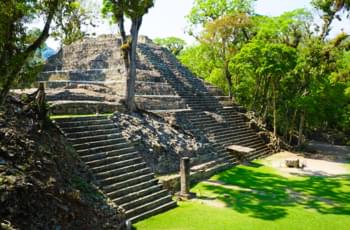 Copán ruïnes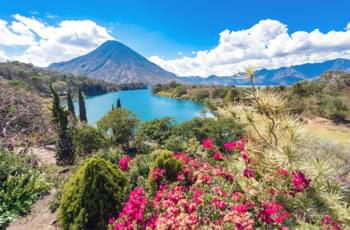 Gezicht op het Lago de Atitlán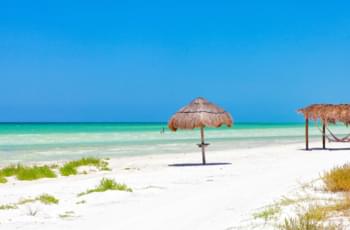 Isla Holbox
Copán Ruinen in Honduras
Copán ruïnes in Honduras
De reis met de huurauto brengt je naar indrukwekkende culturele schatten zoals de Mayaruïnes van Copán in Honduras. De ruïnes liggen in de diepste jungle en behoren tot het UNESCO-wereldcultuurerfgoed. Rijd met een huurauto naar de site en verken de site vervolgens te voet. De Copán ruïnes zullen je sprakeloos achterlaten.
Lago de Atitlán in Guatemala
Ontdek het indrukwekkende vulkanische landschap rond het Lago de Atitlán in Guatemala - het onbetwistbaar mooiste meer van Midden-Amerika. Naast een adembenemend panorama vindt u hier ook een unieke flora en fauna. Vooral wanneer het meer bedekt is met mist, is er een mystieke uitstraling aan het Lago de Atitlán die je niet mag missen.
Traumhafte Strände in Mexiko
Prachtige stranden in Mexico
De witte zandstranden voor de Golf van Mexico of de legendarische badplaats Acapulco zorgen voor ontspanning. U vindt een fantastisch strand met een fascinerende achtergrond aan de Riviera Maya in Tulum. Hier kunt u de ruïnes bezoeken en vervolgens zonnen op het strand. Een speciale insider tip is de Isla Holbox, een klein Mexicaans paradijsje. Parkeer uw huurauto op een van de parkeerplaatsen in de haven met de veerboot. In tegenstelling tot Cancún is dit Mexicaanse eiland ideaal om te ontspannen. Het lange witte zandstrand nodigt uit tot lange wandelingen.
Wat betekenen de eenrichtingsverhuur & extra opties voor de bestuurder?
Einwegmiete
eenrichtingshuur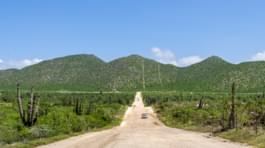 Flexibiliteit dankzij de eenrichtingsverhuur
U wilt waarschijnlijk niet terug naar uw vertrekpunt aan het einde van uw roadtrip door Midden-Amerika. Om uw reis door Midden-Amerika volgens uw individuele wensen en behoeften te kunnen regelen, is de eenrichtingsverhuur aan te bevelen. In dit geval kunt u de huurauto ophalen op de locatie van uw keuze en deze gemakkelijk terugbrengen naar een ander station. Selecteer eenvoudigweg de optie voor eenrichtingsverhuur bij de reservering.
Zusatzfahrer
extra bestuurder
Vind je het saai om alleen door Midden-Amerika te rijden? Dat begrijpen we helemaal! Een roadtrip is veel leuker als je het samen met vrienden of de hele familie kunt doen. Op deze manier worden gemeenschappelijke herinneringen gecreëerd die lang kunnen worden besproken en uitgelachen. Omdat de afstanden vaak erg lang zijn, is het zinvol om om de beurt met de huurauto te rijden. Om deze reden kunt u bij ons de optie extra bestuurder kiezen. Neem om de beurt de huurauto en geniet als passagier van het adembenemende landschap van Midden-Amerika.
Waar u op moet letten bij het huren van een auto in Midden-Amerika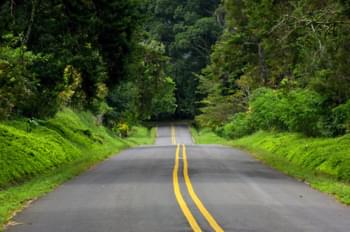 Onderweg in Midden-Amerika
Midden-Amerika is gemakkelijk te bereiken met een huurauto. Een internationaal rijbewijs is vereist.
Na hevige regenval kunnen de wegomstandigheden op het platteland verslechteren. Het is daarom raadzaam om te kiezen voor een huurauto met vierwielaandrijving.
Ondanks het goed ontwikkelde netwerk van tankstations is het raadzaam om niet tot de laatste druppel te rijden. In zeer afgelegen gebieden wordt benzine ook in bussen verkocht.
Ook moet worden opgemerkt dat er tol wordt geheven op de centrale secties van de autosnelwegen. Bewaar het ontvangstbewijs op een veilige plaats, omdat er vaak controles plaatsvinden.
In grotere steden is bijzondere waakzaamheid geboden, omdat veel chauffeurs de verkeersregels als richtsnoeren beschouwen. Het komt voor dat rode verkeerslichten worden gekruist, eenrichtingsstraten worden uitgeschakeld of stopborden worden gekruist.