Huurauto Illinois: Ontdek het Land van Lincoln
De beste manier om Illinois te verkennen is met een huurauto. Vind uw droomauto bij AutoverhuurCheck en bezoek onder andere de derde grootste stad van USAChicago. Met een huurauto bent u altijd flexibel en kunt u zelf de staat verkennen. Start uw roadtrip op de beroemde Route 66 of rijd langs de Mississippi. Een reis naar het Michiganmeer zou ook op uw lijstje moeten staan. Reserveer uw huurauto vooraf online bij MietwagenCheck en begin uw reis door Illinois vol verwachting.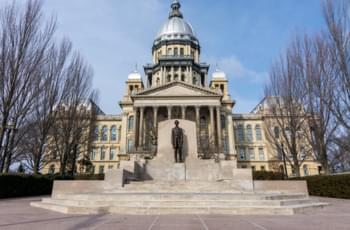 Abraham Lincoln standbeeld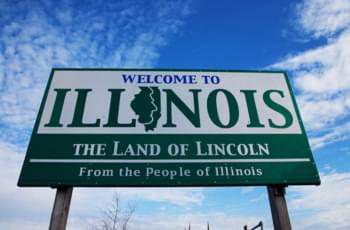 Welkom in Illinois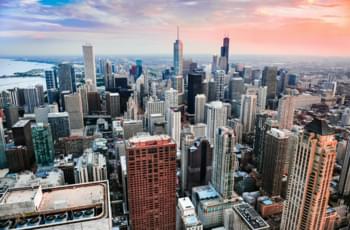 Uitzicht over Chicago
Autoverhuur Illinois: Hier krijgt u uw huurauto in huis.
In Illinois kunt u in bijna elke stad een huurauto boeken. In de onderstaande tabel vindt u een kleine selectie van plaatsen waar u uw huurauto kunt ophalen en de afstand tot de hoofdstad Springfield: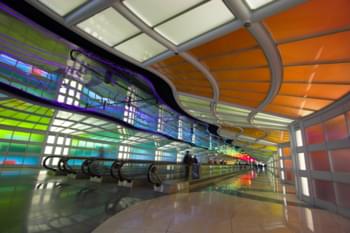 Onderweg op de luchthaven van Chicago
U kunt uw huurauto ook direct ophalen op een van de volgende luchthavens:
Ooit gehoord van de eenrichtingshuur?
Een roadtrip eindigt meestal op een andere plaats dan het begint. Met MietwagenCheck heeft u de mogelijkheid tot eenrichtingsverhuur. Haal je droomauto op bij het ophaalpunt van je keuze en begin je avontuur door Illinois. U kunt de huurauto gemakkelijk inleveren op een andere locatie. Zo bent u altijd flexibel in Illinois en kunt u met uw huurauto naar uw gewenste bestemmingen rijden.
Bedenk een volledig uitgebreide verzekering zonder eigen risico! Zo blijft u ook in geval van schade stressvrij!
Verken de meest populaire steden van Illinois met een huurauto
Chicago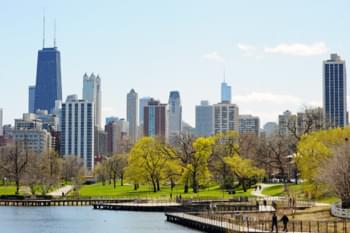 Skyline Chicago, Illinois...
Chicago maakt indruk met een spectaculaire skyline direct aan het water, Millennium Park in het hart van de stad en de populaire Magnificent Mile shopping mile. Niet alleen architectuurliefhebbers komen hier aan hun trekken, maar ook natuur- en winkelliefhebbers. Dompel jezelf onder in de flair van Chicago's grote stad en geniet van een wandeling langs de 42 kilometer lange kustpromenade. Het geeft je een puur vakantiegevoel. De "Windy City" is de thuisbasis van vele grote musea, waaronder het Art Institute of Chicago. Als u graag uit eten gaat, bent u zeker op de juiste plaats bij de marinepier. Kijk uit naar Chicago!
Springfield
Er is zoveel te zien en te ontdekken in Springfield! Huur een auto en vaar langs Route 66. Geniet van een shoppingtripje, speel een rondje golf, dans op live muziek of maak een wandeling in de natuur van Illinois. Er zal geen verveling zijn in Springfield.
Rockford
Wat maakt Rockford zo bijzonder? Het is een mix van stedelijke flair en landelijke charme. Rockford ligt op ongeveer een uur rijden van Chicago met een huurauto en is gelegen in een idyllisch heuvellandschap. De stad wordt ook wel "De stad van tuinen en rivieren" genoemd. Er zijn meer dan 2.800 hectare aan parken, wandelpaden en een promenade langs de rivier. Hier kunt u wandelen, wandelen of picknicken. Rockford heeft ook veel te bieden aan museumliefhebbers. Rijd met de huurauto naar het Rockford Art Museum of bezoek het Burpee Museum of Natural History. In het voormalige Varietétheater en Filmpalast Coronado Performing Arts Center kunt u genieten van toneelstukken, concerten en musicals.
Welke hoogtepunten mag ik niet missen in Illinois?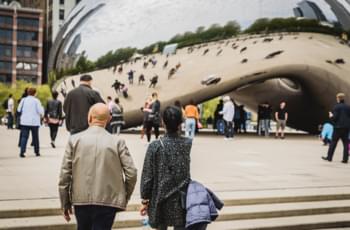 Wolkenpoort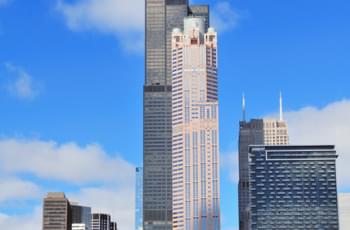 Willis Toren
Als u in Illinois reist met een huurauto, kunt u al uw bestemmingen flexibel en zelfstandig bereiken. Maak uw individuele reislijst met must-sees en bezoek ze wanneer u er zin in heeft. U mag de volgende bezienswaardigheden op uw lijst niet vergeten:
Cloud Gate (ook wel "The Bean" genoemd): boonvormige sculptuur in Chicago
Willis Tower: het hoogste gebouw van de stad Chicago
Grant Park: dorp in Kankakee County
Eagle Planetarium: Planetarium en Astronomie Museum in Chicago
USA Verken andere staten van de wereld met een huurauto
Maak een autoverhuur roadtrip en verken de aangrenzende staten van Illinois.
Indiana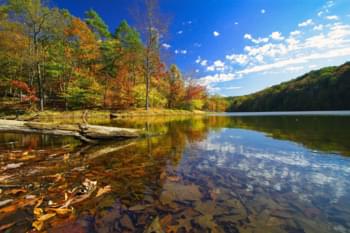 Meer in Brown County State Park in Brown County
De Amerikaanse staat Indiana ligt in het middenwesten van de USA. Rijd met de huurauto naar een van Indiana's parken of bezoek een museum. Wat vindt u van de volgende bezienswaardigheden?
Indiana Duinen Nationale Duinen Nationale Merenkust
Eagle Creek Park
Hoosier Nationaal Bos
Indiana Staatsmuseum
Brown County State Park
Iowa
In de Amerikaanse staat Iowa heeft het leven een nog rustiger tempo. Ga achter het stuur van uw huurauto zitten en trakteer uzelf op een ritje door uw huurautoIowa. Geniet van de schoonheid van de natuur, bezoek musea of ga naar de dierentuin. Iowa heeft alles wat je hartje begeert. Met de huurauto kunt u flexibel naar het Maquoketa Caves State Park of naar West Okoboji Lake rijden. Ook het Effigy Mounds National Monument en de Iowa State Capitol zijn een bezoek waard.
Missouri
Bezoek de Amerikaanse staat Missouri met de twee rivieren Mississippi en Missouri. Geniet van de natuurlijke landschappen, ontdek de wijngaarden of bewonder de metropolen van Missouri. Het meer van de Ozarks, het stadsmuseum en het beeldenpark Citygarden wachten op u! Met een huurauto kunt u op elk moment uw individuele bestemmingen bereiken. Veel plezier in Missouri!