Reizen door Brisbane met een huurauto
De op twee na grootste stad van Australië, Brisbane, is de hoofdstad van de prachtige staat Queensland en kan gemakkelijk worden ontdekt met een huurauto. Geniet van de schilderachtige locatie aan de Brisbane rivier wanneer u een auto huurt. Het gebied rond Brisbane biedt een aangename mix van historische monumenten en de moderne flair van een grote metropool. Brisbane, samen met de omliggende staat Queensland, is ideaal om met een huurauto te verkennen. Met Car RentalCheck kunt u de aanbiedingen van veel verschillende autoverhuurbedrijven vergelijken en het aanbod kiezen dat het beste bij uw behoeften past.
Het milde subtropische klimaat dat in dit deel van Australië heerst, biedt ideale omstandigheden voor sightseeing en uitgebreide excursies in de regio. Brisbane staat ook bekend als de stad van de Nieuwe Wereld, omdat het afhankelijk is van een milieuvriendelijke industrie en een schoon milieu.
Luchtfoto van Brisbane, Queensland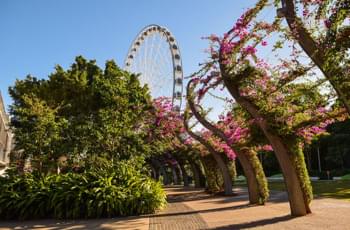 Ontspannen op de Southbank van Brisbane
Waar kan ik een auto huren in Brisbane?
Vanwege de grootte van de stad vindt u in alle delen van Brisbane autoverhuurbedrijven. De handigste manier om uw droomauto te vinden, is echter gebruik te maken van de aanbiedingen van een van de autoverhuurbedrijven direct op de luchthaven van Brisbane.
De dichtstbijzijnde luchthaven bij Brisbane is natuurlijk de luchthaven van Brisbane (BNE), die slechts 17,4 km van het stadscentrum ligt. Daar vindt u een verscheidenheid aan autoverhuurbedrijven die u verschillende opties bieden. De verschillende autoverhuurbedrijven op de luchthaven van Brisbane bevinden zich op niveau 2 van de internationale terminal en op niveau 1 van de binnenlandse terminal.
Wat zijn de voorwaarden voor het boeken van een huurauto in Brisbane?
Deze verschillen van bedrijf tot bedrijf. Sommige autoverhuurbedrijven bieden een verscheidenheid aan autoverzekeringen aan, maar de veiligste keuze is om te kiezen voor een volledig uitgebreide verzekering met of zonder eigen risico. Daarnaast moet u overwegen of u een tweede bestuurder wilt registreren. Vooral voor lange afstanden door Australië kan dit praktisch zijn. Het is het beste om direct een tweede bestuurder te boeken. Filter eenvoudigweg onze website op aanbiedingen die al een tweede driver bevatten.
Belangrijke verkeersregels bij het rondrijden in Brisbane:
Australië volgt links verkeer. Als u zich ongemakkelijk voelt bij het rijden aan de linkerkant, moet u daarom uw vaardigheden trainen in minder bezochte gebieden. Wij raden ook aan om een auto met automatische versnellingsbak te huren. Dus je hoeft niet te oefenen met je linkerhand.
Vergeet niet dat de straffen voor verkeersovertredingen in Australië extreem hoog zijn. Daarom moet u altijd de snelheidslimieten in acht nemen.
Alle passagiers in de auto moeten hun veiligheidsgordels vastmaken.
Er zijn hoge boetes als chauffeurs worden betrapt op drinken en rijden. Het toegestane alcoholgehalte in het bloed is 0,05%.
Heb ik een internationaal rijbewijs nodig om een auto te huren in Brisbane?
In sommige Australische staten wordt een EU-rijbewijs geaccepteerd door de politie en autoverhuurbedrijven (alleen indien vertaald in het Engels!). De meeste landen eisen echter dat bestuurders in het bezit zijn van een internationaal rijbewijs. Vergeet niet dat u altijd uw originele rijbewijs bij u moet hebben.
Zijn er wilde dieren op straat in de buurt van Brisbane?
Je moet altijd op je hoede zijn voor dieren zoals kangoeroes, kangoeroes, wombats en koala's. Bovendien zijn er veel niet omheinde wegen waarop het vee op de aangrenzende velden graast - dus u moet altijd voorzichtig rijden.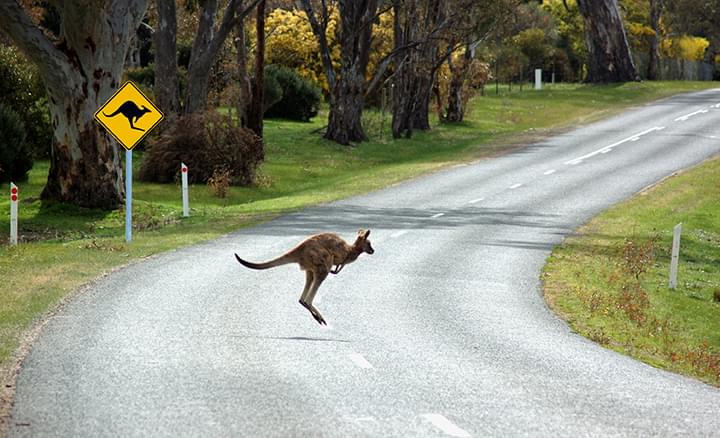 Kijk uit waar je loopt: Kangoeroes op straat
De omgeving van Brisbane verkennen met een huurauto
Reizigers die Brisbane als vakantiebestemming kiezen, moeten ook overwegen om naar de omgeving te verhuizen. In de omgeving van de stad zijn er een aantal excursiebestemmingen, die een dagtocht waard zijn.
Surfers Paradise
Surfers Paradijs
Surfers Paradise, met zijn adembenemende stranden in overvloed, is de ideale keuze voor liefhebbers van het buitenleven. Het dorp ligt in het centrum van de pittoreske Goudkust. Het biedt een ruime keuze aan verfijnde restaurants en moderne winkelfaciliteiten. Surfers Paradise is ook een goede uitvalsbasis voor het bezoeken van attracties zoals Warner Bros. Movie World.
Springbrook Nationalpark
Springbrook Nationaal Park
Het Springbrook National Park is een absolute must voor iedereen die in afgelegen gebieden verblijft. Het park staat vol met prachtige watervallen, vulkanische kloven en eucalyptusbomen.
Tamborine Mountain
Tamborine berg
De Tamborine Mountain is een ander natuurlijk juweel dat u niet mag missen in de omgeving van Brisbane. Het maakt deel uit van het achterland van de Gold Coast en biedt een prachtig evenwicht tussen cultureel erfgoed en natuurwonderen.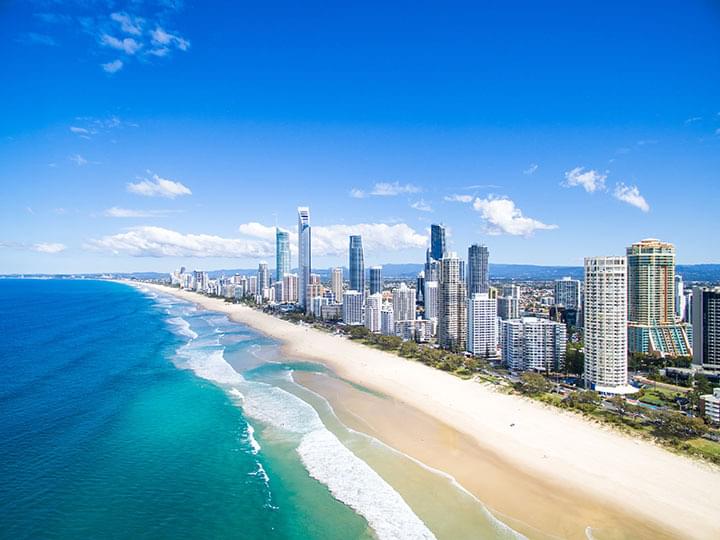 Skyline van Surfers Paradise aan de goudkust
Autohuur Brisbane - ontdek de attracties van Brisbane
Brisbane, een groene en toeristische stad, biedt een verscheidenheid aan interessante bezienswaardigheden die u niet mag missen.
Brisbane's Cultural Centre
Brisbane's Cultureel Centrum
Als u uw reis door de stad wilt beginnen met een wandeling langs de Brisbane River, moet u een bezoek brengen aan Brisbane's Cultural Centre, met interessante plaatsen als het Queensland Performing Arts Centre, de State Library of Queensland en de Gallery of Modern Arts.
Brisbane Botanic Gardens
Brisbane Botanische Tuinen
Reizigers die de voorkeur geven aan rustige plaatsen moeten naar Mount Coot-tha Botanic Gardens gaan, vanwaar je een adembenemend uitzicht hebt over de hele stad. Dit hoogtepunt ligt op ongeveer 7 km van Brisbane, maar is een bezoek waard. Binnen zijn er 52 hectare tuinbouw en een aantal thematuinen.
South Bank is een andere attractie in Brisbane die een bezoek meer dan waard is. Het gebied staat vol met promenades, pleinen en parken die zijn aangelegd voor de Wereldtentoonstelling van 1988. U kunt ook zwemmen in de kunstmatige lagune - een populair tijdverdrijf voor de inwoners van Brisbane.
Story Bridge Adventure Climb
Verhaal Brug Avontuur Klimmen
Als u in Brisbane bent, kunt u de Story Bridge Adventure Climb niet missen. De brug is een van de meest populaire attracties van de stad. Het biedt een twee uur durende tour die garant staat voor een onvergetelijk uitzicht op de stad.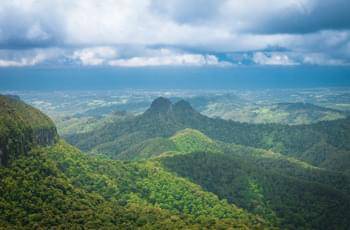 Springbrook Nationaal Park in Queensland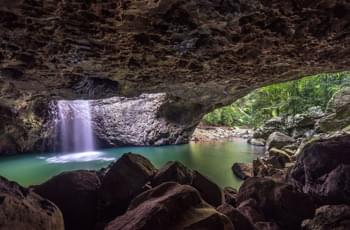 De lente in Springbrook Nationaal Park