Ontdek Lanzarote met een huurauto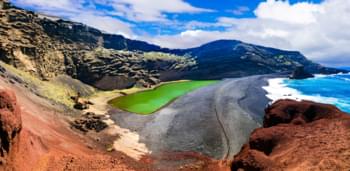 Vulkaan krater Montaña de Golfo
Lanzarote is één van de Canarische Eilanden en is populair bij toeristen die op zoek zijn naar zon-, zee- en strandvakanties. Het ligt op iets minder dan 130 km van het Spaanse vasteland. Hoewel het geen bijzonder groot eiland is, biedt Lanzarote diverse landschappen, een ongerepte natuurlijke omgeving en talloze toeristische attracties. Vakantiegangers die Lanzarote als hun bestemming kiezen zullen in staat zijn om witte zandstranden met kristalhelder water, vulkanische grotten, mysterieuze kraters, en de overblijfselen van lavameer verspreid over het eiland te bezoeken. Het gebied is ook beroemd als een UNESCO biosfeerreservaat met veel bezienswaardigheden verborgen rond het eiland. Rijden rond Lanzarote is puur plezier als het eiland biedt vele veilige en nieuw aangelegde wegen. Deze zullen u toelaten om chique restaurants, interessante accommodatie opties, en cafetaria's, evenals rustige rustgebieden te bezoeken. Met Driveboo, kunt u nu gemakkelijk vergelijken verschillende autoverhuur aanbiedingen op Lanzarote en kies degene die het beste past bij uw behoeften. Bent u klaar om uw reis te beginnen?
Waar kan ik een auto huren op Lanzarote?
Toeristen hebben de mogelijkheid om een auto te huren in bijna alle steden van Lanzarote want autohuur is relatief populair op het eiland. Het makkelijkste is om een huurauto direkt op de luchthaven van Lanzarote (ACE) te huren, gelegen op ongeveer 5 km ten zuidwesten van de populaire stad Arrecife. Dit is zeker de beste manier voor toeristen die hun reis rond Lanzarote direct na aankomst willen beginnen. Op de luchthaven, kunt u kiezen uit tal van mogelijkheden van huurauto's op maat van uw specifieke behoeften. U kunt een grote SUV of een kleine coupé huren - er zijn meerdere opties!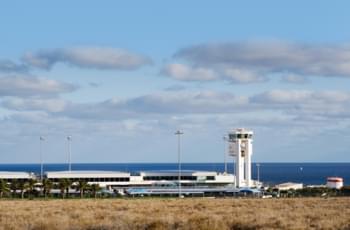 Toren van Lanzarote Luchthaven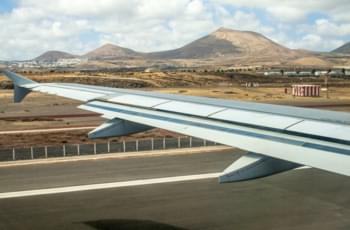 Vliegtuig op Luchthaven Lanzarote
Tijdens het huren van een auto, moet u niet vergeten:
In het bezit zijn van een geldig rijbewijs, een geldig identiteitsbewijs of paspoort en een creditcard

Controleer de auto grondig om eventuele schade te vinden zodat u onmiddellijk kunt melden aan het autoverhuurbedrijf
Vragen over de soorten van de verzekering die beschikbaar zijn voor uw huurauto
Alle autoverhuurbedrijven in Spanje bieden verzekering voor de auto's die zij huren. Om volledige bescherming van uzelf en uw passagiers te garanderen, moet u voor een volledige verzekering kiezen. Deze verzekering dekt ongevallen, diefstal en schade. De auto zal ook dekking van de wettelijke aansprakelijkheidsverzekering moeten vereisen.
Rijden met een huurauto rond Lanzarote
In Spanje zijn er verschillende snelheidsbeperkingen voor elk soort weg. Zie onderstaande tabel:
| Soort weg | Maximumsnelheid |
| --- | --- |
| Autosnelweg | 120 km/u |
| Snelweg | 100 km/u |
| Buiten bebouwde kom | 90 km/u |
| Bebouwde kom | 59 km/u |
Wat rijbewijzen betreft, zijn alle rijbewijzen uit de EU in heel Spanje geldig.
Snelwegen in Spanje worden aangeduid met "AP-X", waarbij "X" het wegnummer is (bv. AP-7).
Op snelwegen moet u tol betalen. Tolgeld word gewoonlijk betaald op bepaalde tolpoorten.
De kosten zijn gebaseerd op de voertuigcategorie waarin u rijdt en de duur van uw reis.
De tol kan contant of met een creditcard worden betaald. Het is ook mogelijk om een speciaal betalingssysteem, bekend als "Via-T", waarmee u door de poorten zonder de noodzaak om te stoppen - de gemiddelde prijs tijdens het rijden van een huurauto is € 9,5/100 km.
Je kan variërend van enkele honderden tot een paar duizend euro voor snelheidsovertredingen moeten betalen in Spanje. De kosten zijn afhankelijk van de ernst van de overtreding en uw inkomen.

Het wettelijk toegestane alcoholgehalte in het bloed in Spanje bedraagt 0,05 procent (alcoholgehalte in de adem: 0,25 mg/l) en 0,03 procent (alcoholgehalte in de adem: 0,15 mg/l) voor bestuurders met minder dan twee jaar ervaring.

De bestuurder en alle passagiers die op de voor- en achterstoelen van het voertuig zitten, moeten een veiligheidsgordel dragen. De boete voor het niet dragen van de veiligheidsgordel kan 90 EUR per persoon bedragen.

Parkeert u op een onbevoegde plaats, dan kunt u rekenen op een toeslag van maximaal EUR 300,-
Geniet van prachtig Lanzarote met een huurauto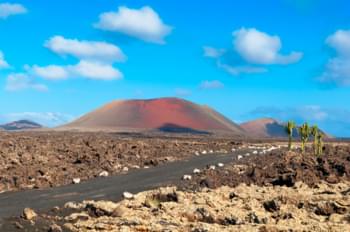 Weg door het vulkaanlandschap
Bent u al verveelt van lange uren zonnebaden en zwemmen in het warme, kristalheldere water? Het is tijd om uw reis over het eiland te beginnen! Huren van een auto geeft u echte vrijheid en kunt u een aantal natuurlijke wonderen en toeristische attracties te bereiken. Voor degenen die graag hun vrije tijd doorbrengen met het verkennen van prachtige natuurlijke edelstenen, Timanfaya National Park zal de beste keuze voor een dagtocht zijn. Het wordt door velen beschouwd als een van de must-see toeristische attracties op Lanzarote, gekenmerkt door zijn verbluffende maanachtige vulkanische landschap. U moet ook een bezoek aan de Mirador del Rio overwegen - een natuurlijk uitzichtspunt en zeker een kick voor uw adrenaline en endorfines. Dit fantastische uitkijkpunt biedt u een prachtig uitzicht over een groot deel van het eiland Lanzarote. Kunstliefhebbers moeten zeker een bezoek brengen aan de Cesar Manrique Foundation, waar ze alles te weten komen over de manier waarop de kunstenaar de symbiose tussen mens, natuur en kunst benadert. Het huis werd gebouwd als onderdeel van een reeks vulkanische bubbels die een out-of-this-world huishouden. De afstanden en reistijden in onderstaande tabel zijn allemaal gemeten vanaf luchthaven Lanzarote naar de plaats van bestemming. De tabel bevat ook de belangrijkste en populairste steden rond Lanzarote.
Leuke bestemmingen met uw huurauto in Lanzarote
| Bestemming | Afstand met huurauto | Tijd |
| --- | --- | --- |
| Timanfaya Nationaal Park | 21,5 Km | 20 min |
| Mirador del Rio | 38,9 Km | 35min |
| Cesar Manrique Stichting | 10,2 Km | 10 min |
| Costa Tenguise | 14,7 Km | 15 min |
| Playa Blanca | 33,1 Km | 30 min |
| Puerto Calero | 13,5 Km | 15 min |
| Mal | 33,5 Km | 30 min |