Is het de moeite waard om een auto te huren op Sicilië?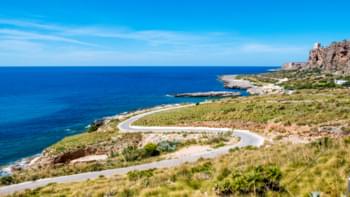 Kustweg in Palermo, Sicilië
Op het Italiaanse eiland Sicilië zijn er vele mogelijkheden om een auto te huren. De gemakkelijkste manier om prijzen en aanbiedingen voor huurauto's in Sicilië te vergelijken is om online te gaan voordat u op reis gaat. Dit bespaart u geld en gedoe bij het boeken van uw huurauto. Er zijn veel verschillende autoverhuurbedrijven in Sicilië. Deze zijn zowel op de twee internationale luchthavens van Palermo en Catania als in de binnensteden van de steden te vinden. Als u een auto huurt op Sicilië, raden wij u aan om een volledige verzekering af te sluiten zodat u goed verzekerd bent.
Huur een auto Sicilië: augustus en september 2019 met de cabriolet genieten van
Zomerse zomer 2019 in Sicilië? De weersvoorspellingen voor de zomermaanden augustus en september 2019 zijn uitstekend voor een vakantie met een huurauto: warme tot aangename temperaturen tussen 26°C en 30°C, met slechts zeer weinig regenachtige dagen en tot 10 uur zon per dag zijn voorspeld. Als het weer goed is, is er niets dat u ervan weerhoudt om een van de grote evenementen in augustus en september 2019 met een huurauto te bezoeken. Op 15 augustus 2019 vindt het Festa del Mare plaats in Syracuse - een festival ter ere van de heilige Assunta. In september raden wij u aan een van de oogstfestivals te bezoeken, zoals Raddusa.
Met een cabriolet als huurauto kunt u 100% genieten van het mooie weer op Sicilië!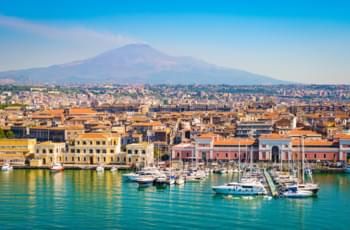 Gezicht op Catania, Sicilië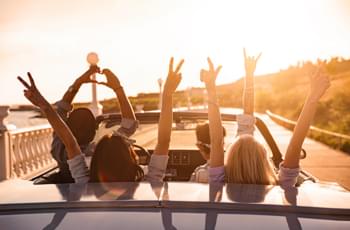 Geniet van de zomer van 2019 in een cabriolet.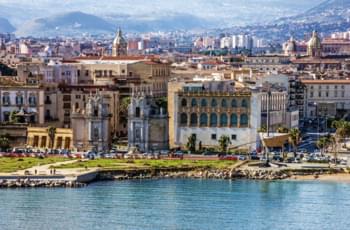 Gezicht op Palermo, Sicilië
De verkeersregels in Sicilië
rechts verkeer
Veiligheidsgordels verplicht op alle zitplaatsen
Geen mobiele telefoons aan het stuur
Snelheidslimieten: 50 km/h binnen de bebouwde kom, 90 km/h buiten de bebouwde kom, 110 km/h op autosnelwegen, 130 km/h op autosnelwegen.
Bloedalcoholgrens: 0,5 (0,0 voor beginners)
Beklim de Etna en bezoek andere plaatsen in Sicilië

Gezicht op de vulkaan Etna in Sicilië
Het Italiaanse eiland Sicilië is het grootste eiland in de Middellandse Zee. Op deze vulkaan rijst de Etna majestueus op tussen vele bergen en heuvels. Het is de grootste en meest actieve vulkaan van Europa en ligt in het oostelijke deel van het eiland. Als je zin hebt in een speciale wandeling, rijd dan met je huurauto naar de voet van de vulkaan. Van daaruit kunt u het te voet of met de kabelbaan beklimmen.
Als deze wandeling naar de Etna te vermoeiend voor u is, waarom bezoekt u dan niet een van de vele natuurparken of een van de beschermde kustgebieden, zoals Vendicari? Daar kunt u een ontspannen wandeling maken in het midden van prachtige landschappen. Sicilië is over het algemeen een uitstekende plek om met een huurauto te verkennen. Er zijn goed ontwikkelde wegen die de belangrijkste steden met elkaar verbinden. Ook een tocht rond het eiland is mogelijk en zal u gegarandeerd inspireren.
Naast de hoofdstad Palermo moet u ook een van de vele bergsteden in het achterland bezoeken. Ze betoveren de bezoekers met hun eigen charme en brengen de cultuur en tradities van het eiland ver weg van de drukte van de toeristen. Misschien wilt u ook een van de vele tempels of enkele oude monumenten van Sicilië bezoeken met uw huurauto? Bijzonder indrukwekkend zijn de Griekse opgravingen van Agrigento, die al indruk maakten op Johann Wolfgang von Goethe.
| bestemming voor een dagtocht | Afstand tot Palermo |
| --- | --- |
| Etna | 240 km |
| verkoper | 285 km |
| Graafplaatsen van Agrigento | 125 km |
Autohuur in de Lipari / Eolische Eilanden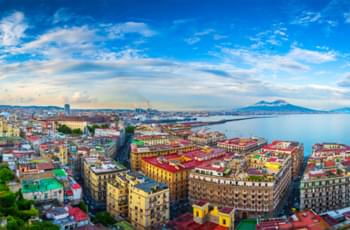 Gezicht op Napels, Italië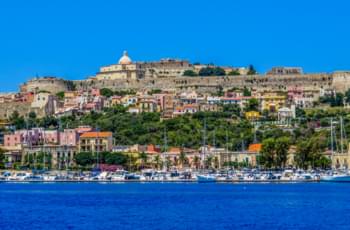 Uitzicht naar Milazzo, Italië
Een groep eilanden ten noorden van Sicilië wordt liparische of eolische eilanden genoemd. Het bestaat uit verschillende kleine eilanden, waarvan er zeven bewoond zijn. De belangrijkste is Lipari. U kunt de eilanden bereiken met de veerboot vanuit Napels of Milazzo. Houd er rekening mee dat u alleen in Lipari en Salina zonder beperkingen met uw huurauto kunt rijden. Als u een van de andere eilanden wilt bezoeken, laat uw huurauto dan achter op een bewaakte parkeerplaats in Napels of Milazzo. Sicilië en de Lipari en Eolische Eilanden kunnen het hele jaar door bezocht worden. Om de hete Saharawinden te vermijden, moet men augustus vermijden. De beste tijd voor een strandvakantie is in juni, juli of september om te genieten van de warme Middellandse Zee. Voor roadtrips en actieve vakanties is de vroege en late zomer bijzonder de moeite waard. Maar zelfs in de winter is het nog mild genoeg om de eilanden in de Middellandse Zee te ontdekken.
Wij wensen u een prettige reis met uw huurauto in Sicilië!