Autohuur door het onvergetelijke landschap van Nieuw-Zeeland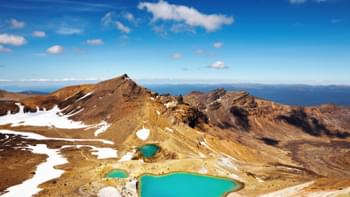 Landschap in Nieuw-Zeeland
Ga op een avontuurlijke roadtrip in Nieuw-Zeeland met een huurauto! Nieuw-Zeeland ligt ten zuidoosten van Australië en is een eilandstaat. Naast grote bergketens, vulkanen, bossen en stranden, kunt u de locaties van de film "The Lord of the Rings" in Nieuw-Zeeland met een huurauto bereiken. Ook de grote steden Wellington, Auckland en Christchurch zijn een omweg per huurauto waard. Huur een auto in Auckland en verken de omgeving. Zowel de natuurparken als de steden hebben veel te bieden in Nieuw-Zeeland.
Alles over autohuur in Nieuw-Zeeland
In Nieuw-Zeeland werken we samen met alle bekende autoverhuurbedrijven. Huur gewoon een auto voor uw vakantie online in onze prijsvergelijking. Haal het op na uw aankomst in Nieuw-Zeeland direct op een van deze luchthavens: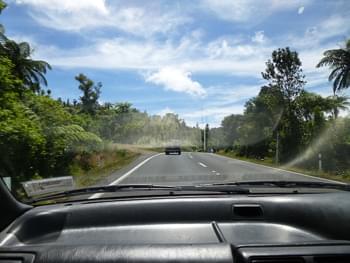 Nieuw-Zeeland met een huurauto
Met een huurauto kunt u elke bestemming in Nieuw-Zeeland flexibel en zelfstandig bereiken. De hoofdwegen zijn de rijkswegen die de zuidelijke en noordelijke eilanden bedekken. Voor de Outback van Nieuw-Zeeland is het raadzaam om een jeep als huurauto te gebruiken. Met een huurauto kunt u plaatsen bezoeken die niet worden bezocht door excursiebussen en zo uw reis individueel maken. De grote steden zijn met elkaar verbonden door snelwegen. Er geldt een maximumsnelheid van 100 km/u, die u in acht moet nemen bij het besturen van een huurauto.
In Nieuw-Zeeland is er links verkeer! Als u hier niet aan gewend bent, kunt u het van tevoren uitproberen op minder bezochte wegen.
Flexibel reizen in het noorden en zuiden van Nieuw-Zeeland
Ontdek de Noord- en Zuid-eilanden van Nieuw-Zeeland flexibel met een huurauto. Er staan u enkele spannende bezienswaardigheden te wachten!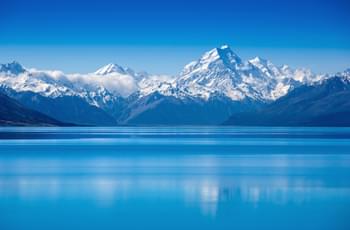 Tekapo meer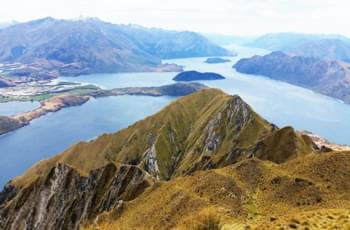 Wanaka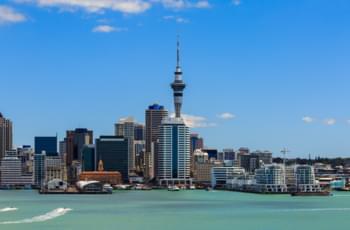 Auckland
Op het Noordereiland van Nieuw-Zeeland kunt u genieten van uitgestrekte landbouwgronden, betoverende kusten en actieve vulkanen. Maak een boottocht, ga kajakken of zeilen en vooral, maak een wandeling door de adembenemende natuur. Rij met de huurauto ook naar deze hoogtepunten:
Het Zuidereiland staat bekend om zijn fascinerende natuur en ongerepte landschappen. Ontdek bergen, gletsjers en meren met een huurauto! Hier vindt u enkele suggesties voor excursies en activiteiten:
Wandeling op de Hookervalleibaan
Vogels kijken op Stewart Eiland
Bezoek het kasteel van Larnach
Fietstocht door de Marlborough Sounds
Bezienswaardigheden vlucht over Wanaka
Wijnproeverij in het centrum van Otago
Dolfijnen kijken in Abel Tasman Nationaal Park
Zin in wat actie en avontuur in Nieuw-Zeeland? Doe dan een bungee jump, een canyon swing of ga wildwaterraften!