Huur een auto in Egypte
Egypte is een republiek in Noordoost-Afrika. Ongeveer 80 miljoen mensen wonen in Egypte, waarvan bijna de helft in de grote steden van Egypte, zoals Caïro, Alexandrië of Gizeh.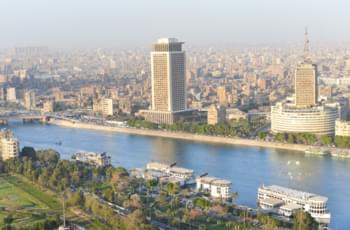 Skyline Cairo, Egypte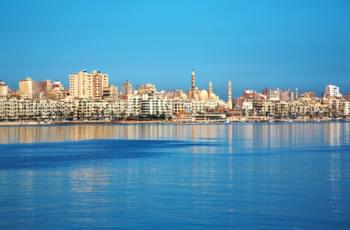 Skyline Alexandrië, Egypte
Welke luchthavens zijn er in Egypte?
Reizen in Egypte met een huurauto
De Nijl is al meer dan 5000 jaar de levensader van Egypte. Zijn vruchtbaarheid heeft geleid tot een van de eerste geavanceerde beschavingen in de wereldgeschiedenis, waarvan de relikwieën nog steeds verbazen bezoekers vandaag de dag.
Naast Gizeh, Caïro en Alexandrië is Luxor ook populair bij huurauto's, van waaruit de Vallei der Koningen met een huurauto te bereiken is. Luxor is ook het vertrekpunt voor Nijl cruises naar Aswan. Beste reistijd: Door het subtropische klimaat kan Egypte het hele jaar door worden bereisd, maar de maanden oktober tot april zijn aan te bevelen, in de zomer is het erg warm.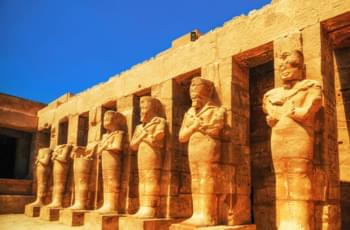 De Karnak Tempel in Luxor, Egypte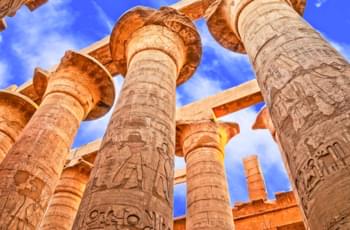 Kolommen van de Karnak-tempel in Luxor, Egypte
Welke verkeersregels zijn van toepassing in Egypte?
0 % bloedalcoholgehalte in het bloed
Maximale snelheid in de stad 50 km/u
Maximale snelheid buiten de stad 100 km/u, ook op snelwegen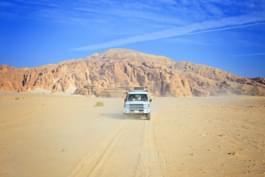 Rijden in de woestijn, Egypte
Als u in Egypte met een huurauto reist, moet u altijd bijzonder voorzichtig rijden, want hoewel hier dezelfde regels gelden als in Duitsland, negeren veel chauffeurs deze regels. De boetes en straffen voor verkeersovertredingen zijn drastisch verhoogd, dus is het belangrijk dat u zich aan de regels houdt. Tot overmaat van ramp zijn sommige wegen in Egypte gesloten voor buitenlanders.
Heb ik een internationaal rijbewijs nodig in Egypte?
Ja, in Egypte heb je een internationaal rijbewijs nodig. Deze wordt uitgegeven in Duitsland en is 3 jaar geldig. Hiermee kunt u in theorie zes maanden autorijden in Egypte.
Autoverhuur in Egypte: De Bezienswaardigheden
Egypte heeft zijn bezoekers veel te bieden, en met een huurauto bent u flexibel en zelfstandig mobiel in het hele land. Natuurlijk zijn de antieke sites, die bezoekers uit de hele wereld aantrekken, bijzonder de moeite waard.
U mag de volgende bezienswaardigheden in Egypte niet missen:
Abu Simbel met de twee tempels van Ramses II.
Cheops piramide met de beroemde Sfinx
Tempelstad Luxor
Thebe
Valley of the Kings, de belangrijkste begraafplaats van de Egyptische farao's met het graf van Toetanchamon.