Onafhankelijke autohuur via Sri Lanka
Met de huurauto van een autoverhuurbedrijf kan Sri Lanka zelfstandig en flexibel worden verkend. Het exotische eiland biedt haar bezoekers een verscheidenheid aan bezienswaardigheden voor elke smaak. Met een huurauto kunt u ze onafhankelijk van het openbaar vervoer bereiken en optimaal van uw vakantie genieten. Of u nu op de luchthaven van Colombo of in het centrum van de stad bent, u kunt uw huurauto bij veel autoverhuurbedrijven kiezen.
Sri Lanka - ontdek het paradijselijke eiland met een huurauto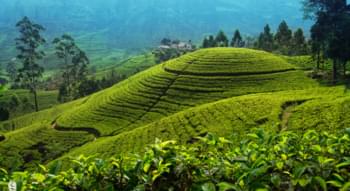 Theeplantage in Sri Lanka
Paradijselijke stranden, geurige theeplantages en een eilandhoofdstad die nooit tot rust lijkt te komen. Dit wacht u in Sri Lanka, de parel van het Oosten in de Indische Oceaan, op korte afstand van India. Maak een rondleiding door de hoofdstad Colombo en bewonder de collectie artefacten in de Gangaramaya Tempel, bezoek het Nationaal Museum of wandel gewoon door het Viharamahadevi Park voordat u in de vroege namiddag naar een van de vele markten van de stad vertrekt.
Ontdek alle hoogtepunten van Sri Lanka met een huurauto
Wie 's nachts voor Colombo voor anker gaat of pas rond middernacht vertrekt, mag niet missen om een kijkje te nemen bij de bezienswaardigheden in het binnenland van het land die nauwelijks te overtreffen zijn in schoonheid. Hieronder hebben we een kleine selectie van de TOPhoogtepunten voor u samengesteld:
Sigiriya - De leeuwenrots met zijn wolkenmeisjesfresco's
De botanische tuin in Peradeniya
De grottempel van Dambulla
De Tandentempel Sri Dalada Maligawa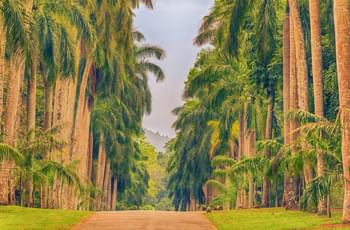 Botanische Tuin Sri Lanka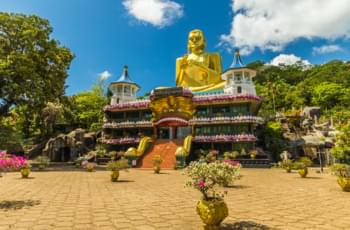 De Tandentempel Sri Dalada Maligawa
Met de huurauto naar Sri Lanka's excursiebestemmingen
Een tocht in een van de open tuk-tuks, de wendbare driewielige taxi's, die zich in hoog tempo door de stad begeven, is net zo goed een onderdeel van een verblijf op een eiland als een korte stop bij een van de slangen charmes op de open weg. Hieronder hebben we een aantal suggesties voor een rondleiding samengesteld die voor u interessant kunnen zijn: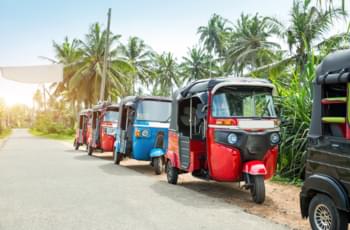 Tuk-Tuks in Sri Lanka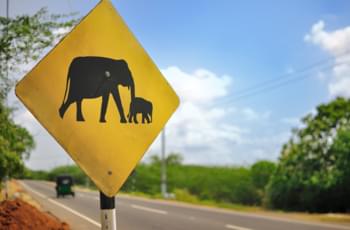 Verkeersbord "Pas op voor olifanten" in Sri Lanka