Huurauto Rhodos - een geweldige vakantie voor u!
Elk jaar maken miljoenen mensen zich zorgen over waar ze hun vakantie het beste kunnen doorbrengen. Er zijn immers talloze bestemmingen om uit te kiezen. Het hoeft niet per se een verre bestemming te zijn om iets te ervaren. Rhodos is daarom nog steeds een zeer populaire vakantiebestemming. Met een huurauto op Rhodos kunt u elk stukje van het eiland zelf verkennen. Huur een auto tijdens uw verblijf op het Griekse eiland en ontdek het land en de mensen op uw eigen manier. Gelegen in de prachtige zee, Rhodos trekt haar gasten met een verscheidenheid aan natuurlijke landschappen en een rijke cultuur. Als u flexibel wilt zijn en het eiland alleen wilt verkennen, is een huurauto een echte aanrader. Dit leidt langs de machtige muren van de Orde van Johannes. Het hart van de stad is de Mandraki-haven. De haven en de aangrenzende markt zijn levendig, vrolijk en turbulent. Hier vindt zowel het dagelijkse leven van de lokale bevolking als dat van de bezoekers plaats. Mediterraanse cultuur en culinaire lekkernijen zijn van dichtbij te beleven.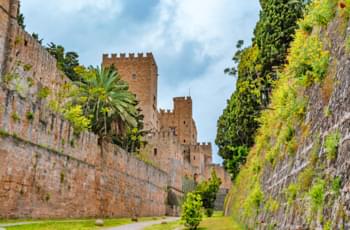 Oude stadsmuur van de stad Rhodos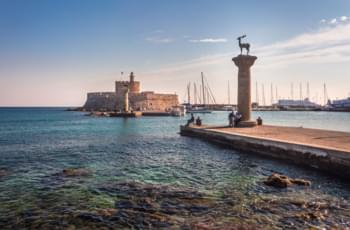 Mandraki haven op Rhodos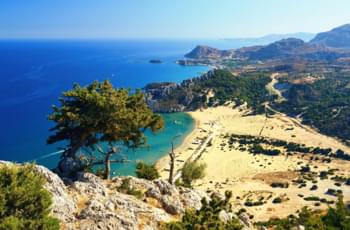 Faliraki-strand op Rhodo
We gaan verder op Rhodos langs de prachtige kustlijn richting Faliraki. Een hoogtepunt voor iedereen die op zoek is naar actie. Naast talrijke hotels ligt hier ook het grootste waterpark van het eiland. Zeven gigantische waterglijbanen en veel verschillende zwembaden nodigen uit tot een heerlijke dag. Als dat niets voor u is, kunt u ook een onvergetelijke dag op het strand doorbrengen. Faliraki biedt een breed scala aan watersportfaciliteiten, zodat u zich niet hoeft te vervelen.
Talloze pubs, bars en clubs nodigen uit om van de nacht een dag te maken. Als dit te veel is voor u, kunt u ook op zoek naar een klein pension voor de overnachting. Een deel van de oude charme van het voormalige vissersdorp is er nog steeds te voelen.
Van Kolimpia naar Tsambica
De excursie brengt u naar Kolimpia. Het is ook een vakantieoord dat zich heeft aangepast aan het toerisme. Het hoogtepunt is de indrukwekkende eucalyptuslaan. Deze leidt door het dorp. Met een huurauto vervolgen we onze reis richting Tsambika. Een kleine afslag leidt naar het beroemde Tsambika klooster. Een omweg hierheen met de huurauto is in ieder geval aan te raden. Gelegen op de heuvel, biedt het klooster een ongelooflijk mooi uitzicht over de zee. Tsambica heeft meer te bieden. Omdat er in dit gebied geen hotels zijn, is het natuurlijke landschap nog vrijwel onaangetast. Tijdens uw Rhodos rondreis krijgt u vele mogelijkheden om indrukwekkende foto's te maken.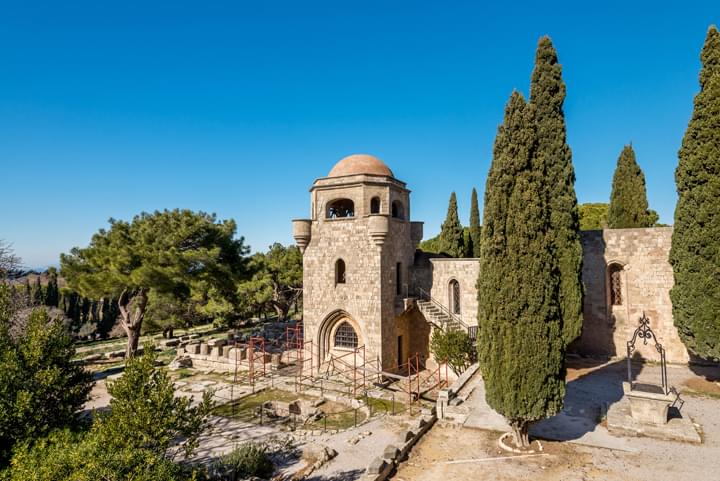 Kapel in Tsambica, Rhodos
Met een huurauto naar het binnenland van Rhodos
Vanaf de adembenemende stranden kunt u nu met een huurauto naar het binnenland van het eiland reizen. Ook hier kunt u een geweldig uitzicht verwachten. Bijvoorbeeld de op twee na hoogste berg van het eiland: Profítis Ilías. Een beklimming is de moeite waard, want het uitzicht doet je al snel vergeten dat je eigenlijk op een Grieks eiland bent. Dit landschap doet eerder denken aan een van de oorspronkelijke regio's. In navolging van de Griekse mythologie vervolgen we onze reis naar Laerma.
Een kleine gemeenschap waarvan gezegd wordt dat de bewoners afstammelingen zijn van de god Hermes. In Laerma kunt u het echte leven voelen. Ver weg van toeristische bolwerken. Parkeer uw huurauto in ieder geval hier en laat u beïnvloeden door de manier van leven. Talrijke tavernes nodigen u uit voor een culinaire reis. De traditionele keuken wordt hier aangeboden tegen zeer lage prijzen. Dit mag u op uw reis door Rhodos niet missen.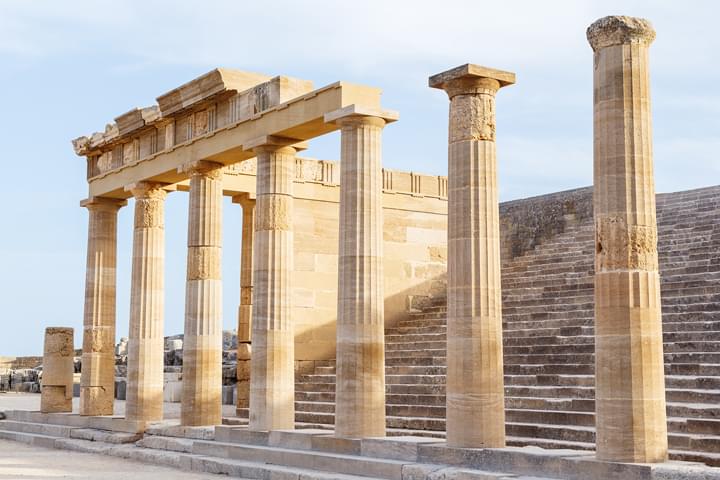 Acrópolis en Lindos, Rodas
Als je aan Griekenland denkt, denk je aan de Akropolis. Deze zijn niet alleen in Athene te bewonderen. Tijdens de heen- en terugreis op het eiland Rhodos gaan we verder naar de stad Lindos. Dit is de op één na grootste Akropolis van Griekenland. Voor de beklimming moet u goede wandelschoenen klaar hebben, want het is een goede wandeling omhoog de heuvel. Lindos is een cultureel en historisch hoogtepunt. Naast de Akropolis, die als een indrukwekkende ruïne te bewonderen is, is er een klein museum en een oude kerk vol relikwieën en getuigen van de geschiedenis.
Een tip van een insider: In de buurt van de stad is een paradijselijke baai om te zwemmen, die u niet mag missen.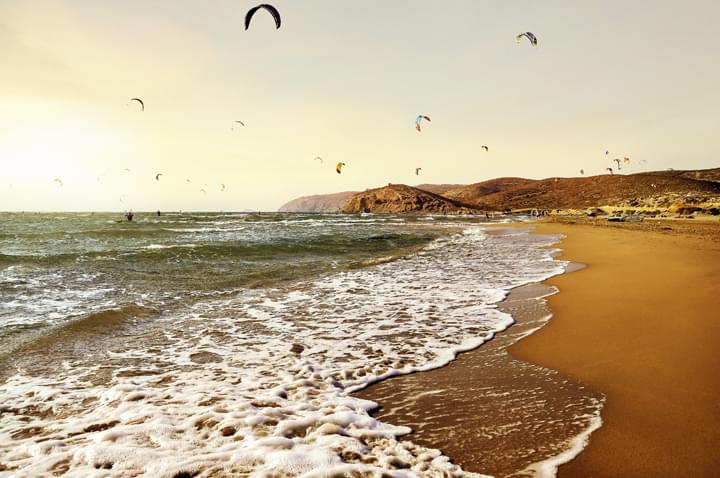 Surfers in Prasonisi
Ga verder naar het zuiden. In de buurt van de stad Prasonisi komen surfers aan hun trekken. Hier woelt de zee zich een beetje en is de natuur gewoonweg adembenemend. Dat is een goede reden om de huurauto te parkeren. Een ander hoogtepunt van de spannende rondrit is aan de westkust: Monolithos. Typische Griekse landschappen kenmerken de omgeving. Een omweg naar het Byzantijnse kasteel is zeer aan te raden. Dit is een beetje buiten, maar zeker een bezoek waard.
In het deels nog zeer goed bewaard gebleven kasteel kunt u zich onderdompelen in een lang verleden. Het schiereiland Cape Forunis ligt op slechts 8 km afstand en is de volgende halte die u niet mag missen. Een oude, antieke begraafplaats en een natuurlijk strand nodigen uit tot rustige uren. Rijd verder langs de prachtige kust richting Petaloudes. De reis met een huurauto voert u door het Vlinderdal. Dit gebied dankt zijn naam aan de grote populatie vlinders, die vooral in de zomermaanden in alle denkbare kleuren te bewonderen zijn.
Filerimos en terug naar Rhodos stad
Voordat de avontuurlijke tour van het eiland Rhodos in de stad Rhodos ten einde loopt, moet je een laatste omweg naar Filerimos maken. Filerimos is een 250 meter hoge heuvel, die de Griekse cultuur weer perfect presenteert. Oude ruïnes en een onbeschrijflijk mooi uitzicht op het indrukwekkende natuurlandschap wachten u hier op. Hier is een middeleeuws klooster gebouwd naar het oorspronkelijke model en biedt inzicht in de geschiedenis. Een kruispunt leidt hier langs verschillende stations. Het hoogtepunt is in ieder geval een uitkijkplatform dat een zicht opent op Turkije. Een echt perfect einde van de reis. Nu is het tijd om met een zwaar hart afscheid te nemen en de auto te parkeren in de stad Rhodos.
Vergelijk huurauto's op Rhodos en bespaar tot 60%
Vergelijk de autoverhuurbedrijven van Rhodos in onze online prijsvergelijking. Driveboo werkt samen met alle bekende autoverhuurbedrijven op het eiland. U kunt kiezen uit een groot aantal aanbiedingen. Er zijn verhuurstations zowel op de luchthaven Rhodos (RHO) en in de verschillende resorts aan zee. U kunt uw huurauto het beste op tijd online boeken en daardoor profiteren van lagere prijzen. Heeft u vragen over het boeken van een auto op Rhodos? Aarzel dan niet en neem telefonisch of via mail of chat contact op met ons serviceteam. We kijken uit naar uw vraag.