Met een huurauto door Peru: beleef puur avontuur!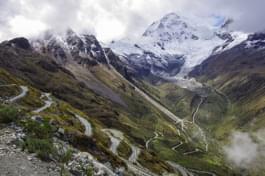 Bergweg in Peru
Wilt u in een huurauto door Peru rijden? Aarzel dan niet lang, neem een kijkje op onze autoverhuur Check portal en boek de perfecte huurauto voor uw reis naar Peru. Het land in Zuid-Amerika heeft veel meer te bieden naast het beroemde UNESCO-werelderfgoed Machu Picchu en de hoofdstad Lima. Neem je huurauto mee op een avontuurlijke reis door Peru en ontdek de hoogtepunten zelf!
De ophaalpunten voor uw huurauto in Peru
Autoverhuurbedrijven voor uw huurauto bevinden zich op de volgende locaties in Peru:
Als je vanaf de eerste minuut mobiel wilt zijn in Peru, haal dan je huurauto op bij een van deze luchthavens:
Welke bezienswaardigheden in Peru moet ik zeker bezoeken?
Maak uw individuele lijst van bestemmingen die u met een huurauto wilt bezoeken. Deze hoogtepunten moeten bovenaan de lijst staan: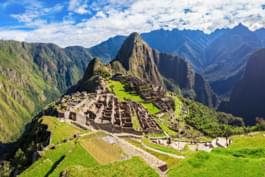 Machu Picchu
Als je Peru hoort, denk je automatisch aan de oude stad Machu Picchu. De stad van de Inca ligt midden in de Peruaanse Andes op een bergtop en is zowel per bus of trein als te voet te bereiken. Als u de Inca Trail naar Machu Picchu volgt, kunt u enkele van de mooiste landschappen van Peru bewonderen. De reis duurt meestal twee tot vier dagen. Een goede planning en voorbereiding is daarom aanbevolen.
Urubamba-Tal
Urubamba-vallei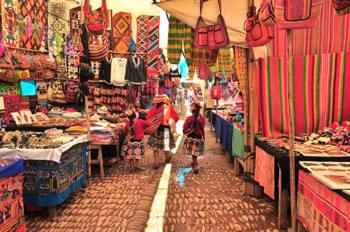 Markt in Peru
De Heilige Vallei van de Inca's zou bovenaan de reislijst moeten staan voor alle natuurliefhebbers. Het ligt ten noorden van Cusco en is gemakkelijk te bereiken met de bus. Laat u betoveren door uitgestrekte velden en besneeuwde bergen en verheugt u zich op ruïnes en zoutterrassen. Wandel door een van de kleurrijke markten van de Andesdorpen of maak een mountainbiketocht. Er zal hier geen verveling zijn.
Weitere Ausflugsziele
Verdere excursie bestemmingen
Maar Peru heeft nog veel meer te bieden. Bezoek bijvoorbeeld deze hoogtepunten in Peru met een huurauto: