Reizen door Minnesota met een huurauto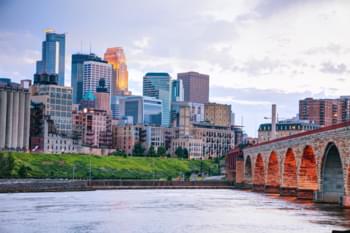 Brug in Minneapolis
Geniet van een roadtrip met een huurauto door de uitgestrektheid van Minnesota. Met een huurauto bent u flexibel en zelfstandig onderweg. Rijd naar uw favoriete plaatsen en verken de wilde en indrukwekkende natuur van Minnesota. Bezoek ook de metropool Minneapolis. Meer dan de helft van de bevolking van Minnesota woont hier. Sint Paulus is de hoofdstad van Minnesota. Wij helpen u graag bij het vinden van een huurauto die aan uw wensen voldoet. Op onze vergelijkingsportal vergelijken we de prijzen van autoverhuur met elkaar. Bespaar tot 60% en start uw vakantie zorgeloos. Reserveer uw huurauto van tevoren, comfortabel van thuis uit. Dit bespaart u niet alleen waardevolle vakantietijd ter plaatse, maar biedt u ook de mogelijkheid om te profiteren van eventuele vroegboekkortingen. U kunt ook een verzekering afsluiten. Dit is met name aan te bevelen voor huurauto's in de USA hoogbouw.

Er zijn verschillende filteropties beschikbaar om uw zoekopdracht te personaliseren. Dit zal u helpen om nog sneller bij uw perfecte huurauto te komen. Kies individueel tussen verschillende voertuigmodellen, uitrustingskenmerken en andere opties.
Huur een auto om de beroemdste steden van Minnesota te bezoeken
Minnesota heeft slechts een handvol wereldberoemde steden. Er zijn echter verhuurstations voor huurauto's in alle van hen. Hier is onze top 10 lijst van steden in Minnesota: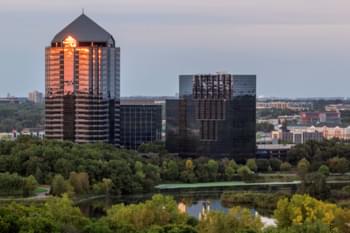 Gezicht op Bloomington
Onderstaande tabel geeft u een overzicht van de afstand tot de vijf grootste steden van Minneapolis-Saint Paul International Airport (MSP).
Reserveer uw huurauto direct op de luchthaven. Dus u kunt het direct na uw landing ontvangen en u kunt direct aan de slag!
Welke verzekering heeft mijn huurauto nodig in Minnesota?
Vooral daar USA is de juiste verzekering voor de huurauto van groot belang. Naast een aansprakelijkheidsverzekering en een volledig uitgebreide verzekering kunt u ook kiezen uit andere verzekeringen. Wij raden u aan om een extra passagiersverzekering af te sluiten voor uw huurauto in Minnesota. Bijna alle autoverhuurbedrijven bieden deze verzekering dienovereenkomstig aan. Vergelijk de verschillende voorwaarden op onze portal.
VOLLKASKO OHNE SELBSTBETEILIGUNG
VOLLEDIG OHNE OVERSCHOT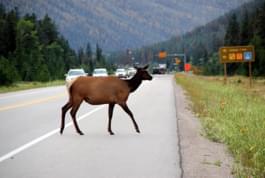 Kijk uit waar je loopt: wilde dieren
Kiest u voor een volledige en volledige dekking zonder eigen risico, dan hoeft u in geval van schade niets te betalen. De volledig uitgebreide verzekering zonder eigen risico of met terugbetaling van het eigen risico kost zeker iets meer in vergelijking, maar is de moeite waard in het geval van schade. Het volledig uitgebreide aanbod zonder eigen risico beschermt tegen alle mogelijke verdere kosten. Vooral bij lange tochten en tochten door de natuur of door pulserende metropolen weet je nooit zeker wat je kunt verwachten.
Let op: Moose en Co. steken vaak onverwacht de straat over!
Ontdek de prachtige natuur van Minnesota met een huurauto
In Minnesota zijn er tal van nationale parken en pure natuur. Met het openbaar vervoer komt u hier niet ver. Wij raden u aan een geschikt voertuig te huren bij aankomst op de luchthaven, waar de keuze aan voertuigen het grootst is. De beste manier om Minnesota te verkennen is met een off-road voertuig of SUV.
Voyageurs Nationalpark
Reizigers Nationaal Park
Het Voyageurs National Park ligt op de grens met Canada. Hier kunt u uitstapjes maken per kajak of kano op talrijke meren. Geniet van de rust van de natuur en ontdek betoverende watervallen. Hier kunt u ontsnappen aan de drukte van het dagelijks leven en volledig tot rust komen.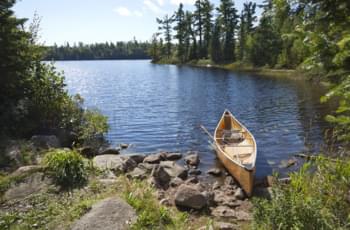 Kanoën in het Nationaal Park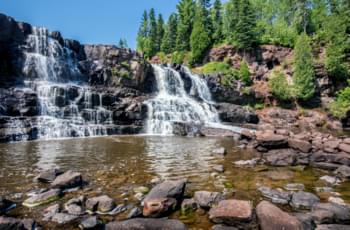 Waterval in Minnesota
North Country National Scenic Trail
Noord-Land Nationaal Landschapspad
De North Country National Scenic Trail is een langeafstandswandelroute die onder andere door Minnesota loopt. Parkeer uw huurauto en maak een wandeling. Geschikt schoeisel en een rugzak met alle benodigde uitrusting worden aanbevolen. Dompel u onder in de natuur van Minnesota en geniet van het adembenemende uitzicht.
Is een roadtrip met een huurauto de moeite waard in de naburige staten van Minnesota?
Een roadtrip met een huurauto door het altijd USA de moeite waard! Begin uw reis in Minnesota en bezoek de omliggende staten. Wat dacht je van Wisconsin, Iowa of North Dakota, bijvoorbeeld?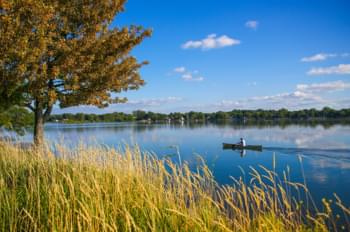 Meer van Manona, Wisconsin
Als u met een huurauto reist, bent u niet afhankelijk van het openbaar vervoer. U kunt comfortabel en zelfstandig naar de volgende highlights reizen:
West Okoboji Lake, Iowa...
Loess Hills, Iowa
Meer van Manona, Wisconsin
Grot van de Heuvels, Wisconsin
Vlakke Kunstmuseum, North Dakota
Lake Sakakawea State Park, Noord-Dakota