Huurauto Tanzania: Hakuna Matata
Beleef het fascinerende land Tanzania in uw eentje met een huurauto. Bekijk de Big Five op een safari, beklim de Kilimanjaro of ontspan op het strand in Zanzibar. Met een huurauto kunt u al uw bestemmingen in Tanzania flexibel en zelfstandig bereiken. U kunt het juiste voertuig vinden bij Car RentalCheck. Boek uw gewenste auto vooraf online en haal deze na aankomst in Tanzania op bij een van de autoverhuurbedrijven.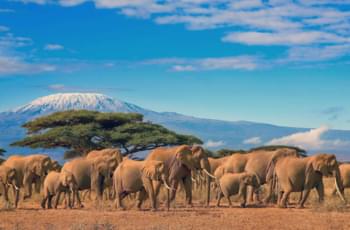 Op safari in Tanzania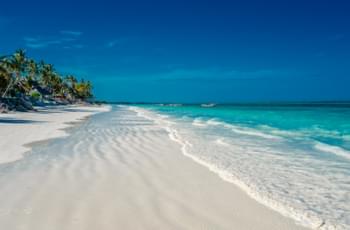 Ontspannen op het strand van Zanzibar
Autohuur Tanzania: Waar kan ik mijn huurauto krijgen?
U kunt uw huurauto ophalen bij deze locaties op het vasteland van Tanzania:
Als u een droomvakantie wilt doorbrengen op het droomeiland Zanzibar, dat bij Tanzania hoort, vindt u autoverhuurbedrijven waar u uw huurauto kunt ophalen op de volgende plaatsen:
Ontdek het vasteland van Tanzania met een huurauto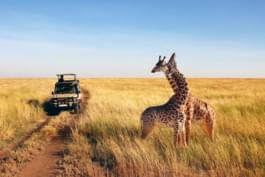 Giraffen observeren tijdens een safari
In Tanzania zijn er veel nationale parken waar u de Big Five kunt ontdekken met een gids of met een huurauto op eigen gelegenheid. Bekijk olifanten, leeuwen, muggen, zebra's, buffels en giraffen in het Ngorongoro Conservation Area, Tarangire National Park of Serengeti National Park. Het is het beste om een off-road voertuig te nemen als u alleen op pad wilt gaan. Zo kunt u ook op onverharde wegen goede vooruitgang boeken met uw huurauto.
Kilimandscharo
Kilimanjaro
U heeft een prachtig uitzicht op de Kilimanjaro vanuit Arusha. Vanaf hier beginnen de meeste tochten naar de hoogste berg van Afrika. Als u de Kilimanjaro beklimt, komt u vijf verschillende klimaat- en vegetatiezones tegen. De wandeling is echter niet voor sportliefhebbers. Maar als je de beklimming durft, zal je enthousiast zijn!
Trakteer uzelf op een pauze op het droomeiland Zanzibar.
Het kruideneiland Zanzibar is te bereiken vanaf Dar Es Salaam met de veerboot of per vliegtuig.
Bezoek deze droomstranden op Zanzibar absoluut met de huurauto:
| strand | Afstand tot Stone Town |
| --- | --- |
| Nungwi | 62 km |
| Paje | 50 km |
| Kiwengwa | 43 km |
| Kendwa | 61 km |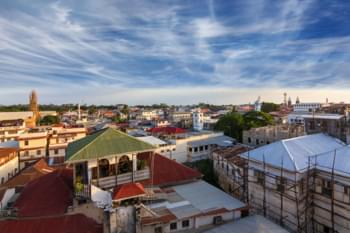 Uitzicht over Stone Town, Zanzibar
Maar niet alleen de stranden van Zanzibar zijn een bezoek waard. Stone Town is de oudste wijk van Zanzibar City en dankt zijn naam aan de koraalkalksteen waarmee de gebouwen werden gebouwd. Slenter door de talloze steegjes met imposante deuren en souvenirwinkels, geniet van de zonsondergang op een van de dakterrassen en bezoek de Forodhani Food Gardens Market, een avondmarkt waar u allerlei lekkernijen kunt proeven.
Trakteer uzelf op een kopje koffie in het Zanzibar Coffee House. Het uitzicht vanaf het dakterras is onbetaalbaar!
Weitere Tipps
Verdere tips
Spice tour: Zanzibar wordt niet voor niets "Spice Island" genoemd.
Kitesurfen aan de oostkust: een waar paradijs voor alle watersportliefhebbers.
Animatie met een Massai op het strand: ontdek hoeveel koeien u worden aangeboden
Fukuchani Village: hier leert u de originele kant van Zanzibar kennen.
Gevangeniseiland: vind de oudste reuzenschildpad van het eiland
Nakupenda Beach: blijf op de zandbank, die alleen bestaat bij eb.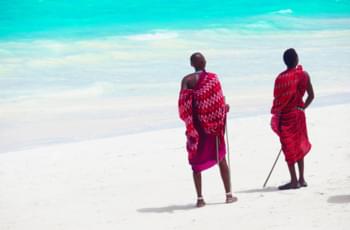 Twee Massai op het strand van Zanzibar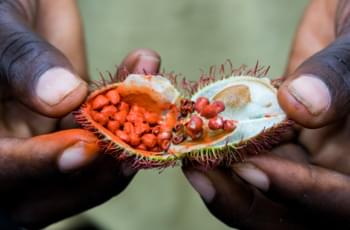 Maak een kruidenrondleiding op Zanzibar