Huur een auto op de luchthaven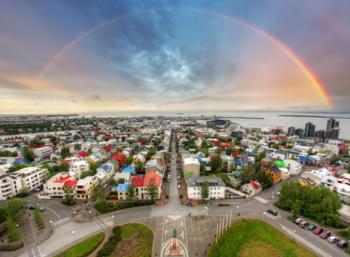 IJsland ligt in het midden van de oceaan, dicht bij de poolcirkel en is ideaal voor een rondreis met een huurauto. Als u uw vakantie in de hoofdstad Reykjavík wilt doorbrengen, vliegt u meestal naar de internationale luchthaven Keflavik - KEF. Het is de grootste luchthaven van het land. Het huren van een auto direct op de luchthaven heeft als doorslaggevend voordeel dat u bij aankomst al onafhankelijk bent. De perfecte omstandigheden voor een stedentrip of een huurauto tour in IJsland, is het niet? De luchthaven ligt op ongeveer 50 kilometer van het stadscentrum. Met uw huurauto heeft u slechts 45 minuten nodig om Reykjavík te bereiken vanwege de zeer goed ontwikkelde wegen in IJsland. Niet alleen profiteert u van lage prijzen, u hoeft ook niet te betalen voor een taxi- of busrit. Als alternatief kunt u ook gewoon de luchthaven transfer naar Reykjavík laten brengen en daar uw auto huren. De verschillende aanbiedingen stellen u in staat om 's werelds meest noordelijke metropool goedkoop en flexibel te verkennen.
Zomer 2019 in Reykjavík: Wat zijn de hoogtepunten?
De beste tijd om Reykjavík en omgeving te bezoeken is tijdens de zomermaanden. Dus waarom gebruiken we de zomer van 2019 niet om IJsland te verkennen? Aangename dagtemperaturen tussen de 12 en 15 graden Celsius wachten op u (voor IJsland). Deze zijn ideaal voor het verkennen van de natuur en fascinerende landschappen in en rond Reykjavík. Maar ook de stad zelf biedt u een aantal evenementen, vooral in de zomermaanden 2019, die u niet mag missen:
Cultuuravond: 3e weekend van augustus
Spekfestival: 16 augustus
Jazz Festival: 04-08 september
Ontdek de omgeving van Reykjavík met een huurauto
Aan de poorten van Reykjavík liggen uitgestrekte landelijke gebieden. Huur een auto om de indrukwekkende natuur van IJsland van dichtbij te ervaren. Daar hoef je niet ver voor te reizen: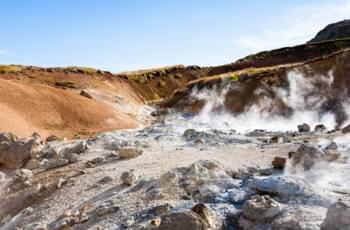 Reykjanesskagi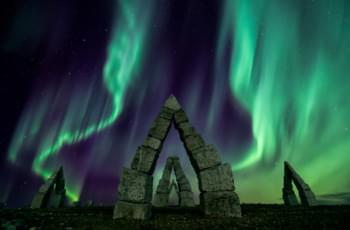 Raufarhöfn
Het Esja gebergte rijst direct achter de stad op en is meer dan 900 meter hoog. Het bestaat uit vulkanische producten en verschillende sedimenten. Parkeer uw huurauto aan de rand van het plaatselijke recreatiegebied en verken de bergen tijdens een wandel- of klimtocht. U kunt de regio zelf leren kennen met een huurauto of gebruik maken van een van de aanbiedingen voor een rondleiding.
Reykjanesskagi
Op het nabijgelegen schiereiland Reykjanesskagi, dat ten zuidwesten van de hoofdstad Reykjavík ligt, ervaart u een wereldwijd zeldzaam fenomeen. Hier loopt de scheurzone tussen twee continentale platen. Het is merkbaar door breuken, hete bronnen en actieve vulkanische systemen. Met een huurauto kunt u snel de korte rit achter u laten en een van de indrukwekkendste natuurgebieden ter wereld persoonlijk bezoeken.
| ligging | verwijdering | reistijd |
| --- | --- | --- |
| Ezja | 45 km | Vijftig minuten. |
| Reykjanesskagi | 45 km | Veertig minuten. |
| Raufarhöfn | 606 km | 7 uur en 25 min. |
| Isafjördhur | 460 km | 5 uur en 30 minuten. |
Bijzonderheden van het wegverkeer in IJsland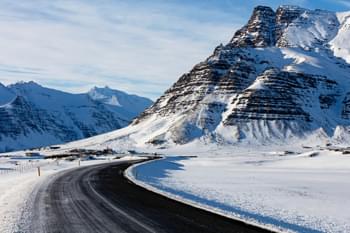 Onderweg in IJsland
In het IJslandse wegverkeer moeten de lichten van de auto's te allen tijde worden ingeschakeld, zelfs tijdens dagtochten. Dit zorgt ook voor veiligheid in geval van frequente regen of mist.
Verlaat nooit de gemarkeerde straten. Vooral in de omgeving van Reykjavík kunnen de rijomstandigheden snel veranderen door spontane weersveranderingen. Wie onervaren is op het terrein en tijdens stormen moet daarom voorzichtig rijden of in de stad blijven in het geval van weerwaarschuwingen.
In IJsland is het dragen van een veiligheidsgordel verplicht.
De maximumsnelheid is 50 km/u in stedelijke gebieden en 90 km/u buiten de bebouwde kom. Op grindwegen buiten de stad mag je maximaal 80 km/u rijden.
Het is raadzaam om de verkeersregels te allen tijde te volgen, omdat de politie waakzaam is. Voor verkeersovertredingen kunnen hoge boetes worden opgelegd.
De mogelijkheden voor uw autohuur in IJsland
Versicherungen für den Mietwagen
Verzekering voor de huurauto
Als u een auto huurt, moet u een voldoende hoge aansprakelijkheidsverzekering hebben. In dit gebied zijn er verschillende aanbiedingen om uit te kiezen. De verzekering moet ten minste een bedrag van een miljoen euro dekken, beter nog een bedrag van 7,5 miljoen euro. Het is ook het beste om een volledige uitgebreide verzekering af te sluiten zonder eigen risico. Op deze manier ontstaan er voor u geen verdere kosten in geval van schade.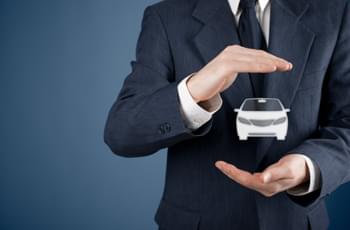 De juiste verzekering voor uw huurauto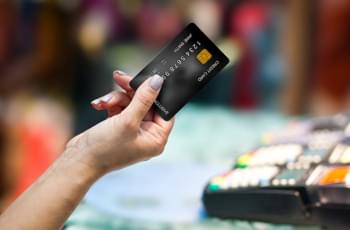 Storting per creditcard
Kaution beim Mietwagen
Borg voor huurauto
Als u een auto huurt, moet u altijd een borg betalen aan gerenommeerde aanbieders. De borg dient ter beveiliging van het autoverhuurbedrijf en kan meestal op twee manieren worden betaald: ofwel u stort de borg contant of uw creditcard zal worden belast met het bedrag van de borg. Als u de auto onbeschadigd inlevert, ontvangt u uw borg terug. Vergelijk in ons portaal de verschillende aanbiedingen van de individuele verhuurders.
Die Einwegmiete
De eenrichtingshuur
Populaire aanbiedingen bij het huren van een huurauto zijn de zogenaamde eenrichtingsverhuur. Met de eenrichtingsverhuur kunt u de huurauto inleveren bij een ander station dan de opstapplaats, bijvoorbeeld na een roadtrip of een retourvlucht. Kijk op onze prijsvergelijkingsportal om te zien of uw voorkeursleverancier een vergoeding kan vragen voor eenrichtingsverhuur.
Die Zusatzfahrer-Option
De extra bestuurder optie
Als u uw auto niet alleen wilt huren en om de beurt samen met anderen wilt rijden, kunt u uw bijrijders als extra bestuurder boeken tegen een redelijke prijs. De extra bestuurder kan dan ook de huurauto besturen. Om uw autoverzekering niet te laten verlopen, moet de extra bestuurder echter geregistreerd zijn bij het autoverhuurbedrijf. Of u een vergoeding moet betalen voor de extra bestuurder is afhankelijk van de aanbieder. Gewoonlijk is voor elke extra bestuurder een klein bedrag per dag verschuldigd. Sommige aanbiedingen zijn echter goedkoop en omvatten de gratis toevoeging van een extra bestuurder. U kunt alle details vinden door de prijzen te vergelijken.
Reizen met een huurauto in en rond Reykjavik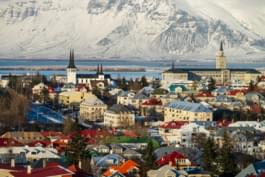 Reykjavik
Een vakantie in Reykjavík biedt bezoekers ongewone culturele en natuurlijke ervaringen in een van de meest gevarieerde steden van Europa. De hoofdstad van IJsland ligt in het zuidwesten van het vulkanische eiland en is de meest noordelijke hoofdstad ter wereld. Ingebed in een prachtig landschap grenst Reykjavík direct aan de Atlantische Oceaan. Om de vele facetten van deze indrukwekkende stad te ontdekken, kunt u het beste een auto huren tijdens uw verblijf. Met behulp van onze prijsvergelijking vindt u vele aanbiedingen die goedkoop, veilig en flexibel zijn.
Bezienswaardigheden in Reykjavik
Pak uw huurauto en rijd eerst naar Hallgrímskirkja. De spitse kerk, uniek in de wereld, inspireert met haar moderne architectuur, geïnspireerd door een waterval. Het gebouw wordt beschouwd als een van de oriëntatiepunten van Reykjavík. Vanaf het uitkijkplatform hoog in de kerktoren heeft u uitzicht over de hele stad tot aan de Atlantische Oceaan en de omliggende bergen.
Andere belangrijke moderne gebouwen in de stad zijn onder andere de Harpa-concertzaal en het Perlan-winkelcentrum met zijn enorme glazen koepel. Een mooi contrast hiermee staat de historische kathedraalkerk.
Nationalmuseum
nationaal museum
Kom meer te weten over de bewogen geschiedenis van IJsland en de eerste kolonisten in het spannende Nationale Museum. De Nationale Galerij, het Openluchtmuseum Árbæjarsafn en het IJslands Cultureel Erfgoedmuseum zijn ook een bezoek waard.
Midden in Reykjavik ligt het Tjörninmeer, dat u gemakkelijk met een huurauto kunt bereiken. Bezienswaardig zijn de gebouwen zoals het stadhuis en de gratis kerk van Reykjavík, die aan de oever grenst. Hier kunt u uw huurauto parkeren en te voet het meer oversteken over een brug.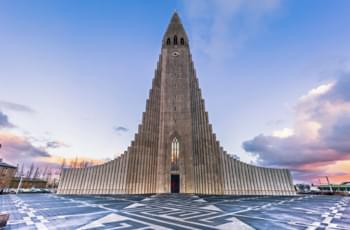 Hallgrimskirkja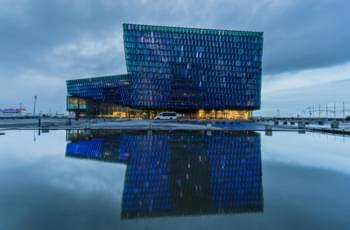 harpa