Ontdek Oslo met een huurauto
Als u geïnteresseerd bent om een van de meest noordelijke landen van Europa te verkennen, moet u zeker Noorwegen kiezen als uw vakantiebestemming met Oslo als uw uitgangspunt voor een reis met een huurauto. De Noorse hoofdstad, met meer dan 600.000 inwoners, ligt aan de zuidelijke rand van het land en is altijd een bezoek waard. En dit is precies waar we onze virtuele reis beginnen, want hier is de infrastructuur perfect. Driveboo helpt u om eenvoudig autoverhuur prijzen in Oslo te vergelijken en de beste deal voor u zeker te stellen door het maken van een online boeking.
Huur een auto en start in Oslo
Als u Noorwegen kiest en een auto wilt huren, begin dan in Oslo. Daar zijn verschillende redenen voor. Ten eerste heeft Oslo twee grote luchthavens met uitstekende vervoersverbindingen. De belangrijkste luchthaven is Oslo Gardermoen (OSL). De luchthaven Oslo-Torp TRF is aanzienlijk verder weg van Oslo dan Gardermoen Airport. Ten tweede hebt u de kans om in alle rust aan te komen in een land dat voor u volkomen vreemd is. U leert de mensen, gewoontes en tradities kennen en waarderen in het midden van een bruisende metropool. U kunt uw huurauto in alle rust ophalen op het vliegveld, want de verhuurstations zijn zeer lang open en hebben een enorme vloot aan van verschillende voertuigen.
Laten we beginnen met een feit waarvan niet iedereen op de hoogte is: Noorwegen ligt in Europa, maar maakt geen deel uit van de EU. Betaling vindt plaats met Noorse Kronen (NOK). Wanneer u naar Noorwegen reist, passeert u de buitengrens van de EU. Dit betekent dat alleen de spullen die u voor uw vakantie nodig heeft belastingvrij mogen worden geïmporteerd. De totale waarde van bezittingen mag niet hoger zijn dan NOK 6.000. Anders moet u naar de douaneaangifte. Bovendien mag u slechts 200 sigaretten meenemen. U moet ook voorzichtig zijn bij het meenemen van alcohol of voedsel.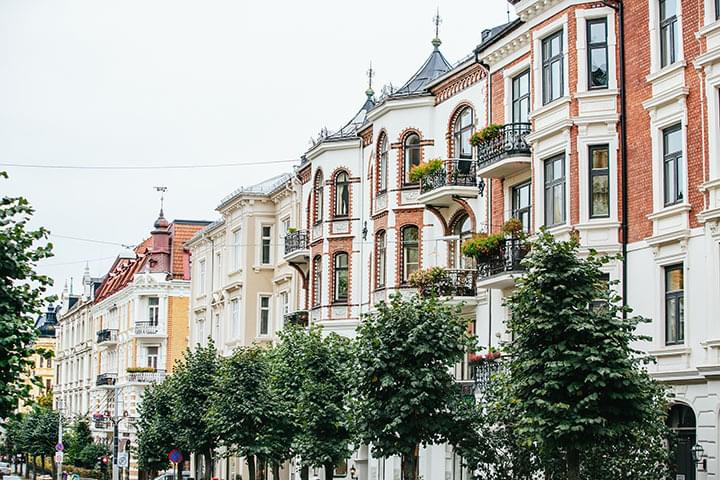 Waarop moeten chauffeurs in Noorwegen letten?
Het is wellicht verstandig een vertaling van uw rijbewijs mee te nemen bij het huren van een huurauto. Bovendien willen wij erop wijzen dat voor de toegang tot de centra van sommige steden een vergoeding moet worden betaald. In Oslo betaalt u 31 NOK voor een huurauto met een maximum totaalgewicht van 3,5 ton. Als u een auto huurt, kunt u het beste vooraf navragen of uw huurauto is uitgerust met een zender (AutoPASS brikke). Zodat ze automatisch de tol kunnen registreren en factureren. Als alternatief kunt u de "betaling voor bezoekers" kiezen, een vooruitbetaling van de tol via een creditcard. Ook buiten de steden zijn er tolwegen. Er bestaat geen algemene verplichting voor vignetten, zoals in Oostenrijk, Zwitserland of andere landen gebruikelijk is.
Verkeersregels in Noorwegen
Type weg/ Maximumsnelheid:
Binnen bebouwde kom,50 km/u
Buiten bebouwde kom, 80 km/u
Snelwegen, 100 km/u
In Noorwegen, net als in de meeste landen van Europa, geldt rijden aan de rechterkant. Bovendien moet de verlichting de hele dag door worden ingeschakeld, ook als u bij mooi weer en overdag onderweg bent. Als u de auto verlaat, moet u een veiligheidsvest dragen. Rijden onder invloed van alcohol is een taboe dat strikt wordt bestraft vanaf 0,2 promille. Let op, als u in de winter met spijkerbanden op de weg bent: dan zult u extra kosten moeten betalen.
Parkeren met een huurauto in Oslo
Parkeren in Oslo is over het algemeen erg duur. Net als in onze steden zijn er veel openbare parkeerplaatsen of parkeergarages waar u betaalt voor de tijd dat u de parkeergarage gebruikt. U kunt de kosten met verschillende creditcards betalen. Het alternatief is een mobiele app met de naam Bil i Oslo. Volg de parkeerregels en houd de afstand tot zebrapaden, kruispunten of fietspaden aan. Anders zijn er drastische sancties, die het autoverhuurbedrijf zeker niet voor u zal overnemen.
Welke verzekering heb ik nodig voor mijn huurauto in Oslo?
Waar u ook een voertuig huurt. Een "allesomvattende verzekering zonder eigen risico" bevelen wij aan, omdat dit onderdeel is van het zorgeloze totaalpakket. Let er ook op dat de aansprakelijkheidsdekking ook hoog genoeg moet zijn. Wij denken dat een dekking tot 7,5 miljoen euro voldoende zou moeten zijn.
Moet ik een borg betalen als ik een auto huur in Oslo?
Ja, maar dit heeft niets te maken met Oslo in het algemeen, maar met het feit dat elk autoverhuurbedrijf een borg zal vragen die is gebaseerd op de waarde van het voertuig. Hierdoor is er bij een schadegeval tenminste een bedrag beschikbaar die de kosten dekken. Als de auto zonder schade wordt geretourneerd, krijgt u de borgsom ook direct weer terug.
Wanneer is het de moeite waard om een auto te huren in Oslo?
Oslo is altijd een bezoekje waard. Natuurlijk moet u er rekening mee houden dat de wintermaanden hier ijskoud kunnen zijn en dat u wordt blootgesteld aan de poolwinter in de noordelijke delen van Noorwegen. De warme seizoenen zijn zeker aangenamer voor stedentrips. Wie van de natuur houdt, vindt in het late voorjaar de mooiste tijd. Als u de midzomer met vol daglicht wilt beleven, moet u in de zomer naar het noorden. Samengevat: De ideale reistijd voor Noorwegen is van mei tot september.
Waar te gaan met de huurauto?
Oslo is niet alleen de hoofdstad van Noorwegen, maar ook de dichtstbevolkte stad van het land. Omdat het gelegen is op een klimatologisch gunstige locatie, nodigt het uit tot uitgebreide ontdekkingstochten of excursies.
Skimuseum Holmenkollen en springschansheuvel
Het Noorse Opera & Ballet
Het beeldenpark van Videland
Het Vikingschip Museum
Het Natuurhistorisch Museum
Het TusenFryd pretpark
Vesting Akershus
Het Fram Polar Ship Museum
En dit is slechts een kleine opsomming van de bezienswaardigheden, waarvan er nog vele anderen te zien zijn.
Wanneer u een auto huurt in Oslo, is het niet alleen een voordeel om snel van de ene bestemming naar de andere te gaan. Het land zelf is verbluffend mooi en buiten Oslo zijn de verbindingen veel slechter. Als u meer afstanden wilt afleggen, wat dankzij de auto geen probleem is, raden wij u een dagtrip naar de mooiste fjorden van Noorwegen aan. Ze zijn ontstaan tijdens de recente ijstijd en reiken tot ver in het binnenland. Diep uitgegraven uitgravingen in massieve bergketens creëren een wild romantische omgeving die nergens mooier is dan in Noorwegen. De Oslofjord is een van de mooiste. Of de Sognefjord, de langste en tot 1.308 meter diep. Natuurliefhebbers komen hier zeker aan hun trekken.
Zoals u kunt zien: Noorwegen heeft voor elk wat wils. Start uw vakantie in Oslo, neem een huurauto en verken de hoofdstad, de omgeving en de rest van het land. Neem de tijd en geniet van wat u hier wordt aangeboden. U zult er geen spijt van hebben.