Ontdek München en bezienswaardigheden met een huurauto
Ontdek met uw huurauto München met zijn vele attracties. De hoofdstad van de Vrijstaat Beieren heeft een groot aantal gevarieerde excursiebestemmingen en interessante bezienswaardigheden te bieden. Met Autoverhuur controleren kunt u de aanbiedingen van C autoverhuurbedrijven in München vergelijken en boek de auto die u nodig hebt. Van Vans in München tot luxe auto's zijn alle voertuigklassen beschikbaar in onze prijsvergelijking. Wij werken samen met alle gerenommeerde autoverhuurbedrijven in München en kunnen u zo een breed scala aan diensten aanbieden. De beste manier om uw huurauto te boeken is online of via onze hotline. Heeft u vragen over het boeken van een huurauto in München? Aarzel dan niet en neem contact met ons op via chat of telefoon!
Wij werken al vele jaren met veel verschillende autoverhuurbedrijven in München. Hierdoor kunnen wij een breed scala aan huurauto's aanbieden, van kleine auto's tot trucks.
Een auto huren en ophalen op de luchthaven van München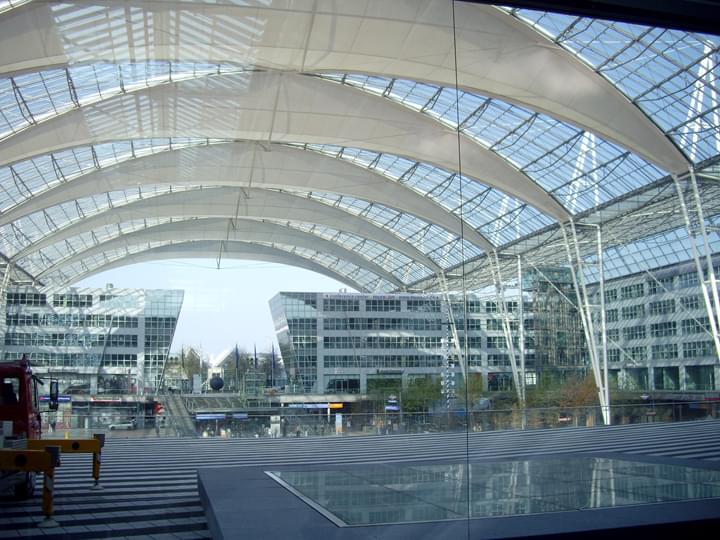 U kunt uw huurauto ophalen bij München Airport (MUC) "Franz Josef Strauss" en bij een van de stations in de stad, zoals het Centraal Station van München. Zo kun je je ontdekkingstocht precies daar beginnen waar het voor jou praktisch is.
Autoverhuur München: Welke providers zijn er?
Europcar
Budget
Avis
Enterprise
Hertz
InterRent
Sunny Cars
Tui Cars
Alle grote autoverhuurbedrijven zijn vertegenwoordigd in München met verhuurstations. Veel van de autoverhuurbedrijven hebben zelfs verschillende filialen in München. Bij het huren en boeken met MietwagenCheck, selecteert u gewoon het station dat u het best kunt bereiken.
Een auto huren in München: Bezienswaardigheden in de omgeving
Sightseeing afstand tot stadscentrum > BMW Museum 8,8 km Linderhof Kasteel 96,5 km Neuschwanstein Kasteel 120,0 km Duits museum 1,0 km
BMW Museum
Tot de lokale bezienswaardigheden, die u in geen geval mag missen, behoort onder andere het populaire BMW museum. Daar ontdekt u de 26 hoofdthema's in zeven tentoonstellingshuizen in het 5.000 vierkante meter grote platte gebouw. Daarnaast worden hier in de rotonde steeds weer diverse interessante tijdelijke tentoonstellingen gepresenteerd. Het is heel praktisch dat de huizen en sommige pleinen via een 1000 meter lang pad met elkaar verbonden zijn. Verken bijvoorbeeld de diverse, complexe ontwerpprocessen op het gebied van voertuigontwikkeling in het "House of Design" of ontdek de verschillende technische innovaties in het "House of Technology". Het belevings- en bezorgcentrum van de bekende autofabrikant bevindt zich in de directe omgeving van het museum. Hier beleeft u het merk BMW zeker op een geheel nieuwe manier. Een bezoek aan het BMW Museum is niet alleen voor liefhebbers van BMW, maar ook voor alle geïnteresseerden die meer willen weten over de autofabrikant. Zelfs voor kinderen is een bezoek aan het museum erg spannend.
Buitenaanzicht van het BMW Museum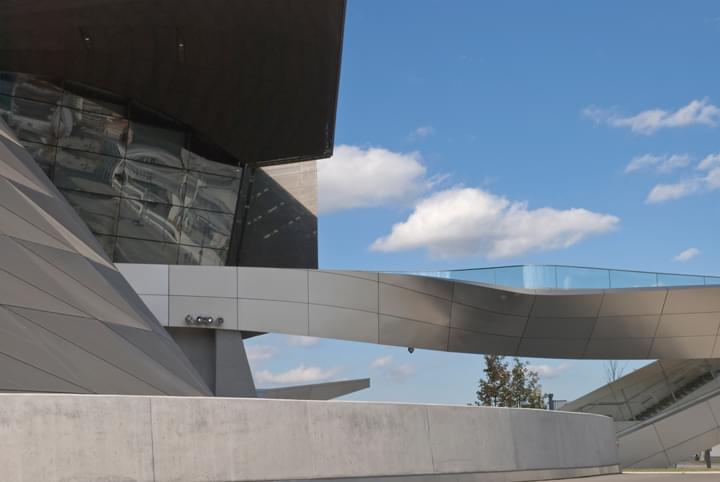 BMW Museum in München
Een verdere excursie is ook de moeite waard het kasteel Linderhof. Dit is snel en gemakkelijk te bereiken met uw huurauto. Kasteel Linderhof is een van de kleinere koninklijke kastelen uit Beieren, maar biedt desondanks een indrukwekkend uitzicht. Het kasteel ligt ongeveer 15 kilometer ten westen van Oberammergau in het Ammergebergte. Het gebouw werd gebouwd tussen 1872 en 1878 in rococostijl. De bouwer was niemand minder dan koning Ludwig II en diende hem als de "Koninklijke Villa".
Kasteel Linderhof is inmiddels een van de meest bezochte en belangrijkste bezienswaardigheden van Beieren. Het kasteelgebouw met zijn spiegelzaal, de publiekszaal, de oostelijke en westelijke wandtapijtenzaal en nog veel meer is buitengewoon indrukwekkend. U kunt ook de schoonheid van het kasteel ontdekken tijdens een rondleiding. Maar ook het kasteelpark is een bezoek waard. Hier wachten onder andere prachtige arcades, bloembedden, de Neptunusfontein en nog veel meer op uw bewondering. De Venus Grotto, een kunstmatige druipsteengrot met een meer en een waterval, is ook gelegen in de kasteeltuin. De Venus Grotto werd gebouwd in 1876 en 1877.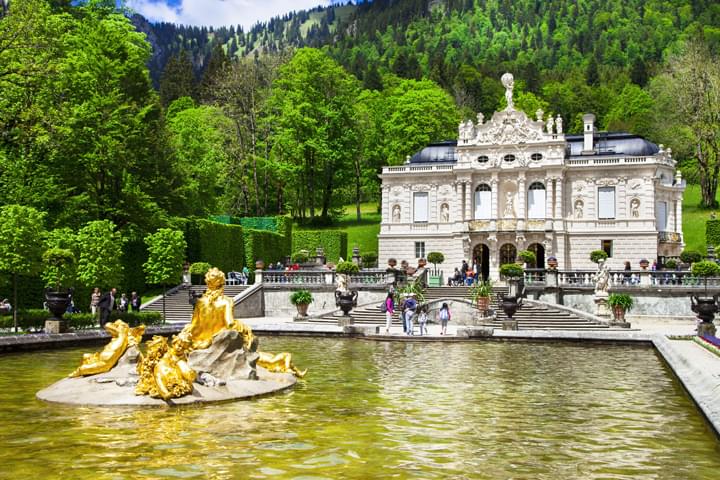 Linderhof Kasteel
Een absolute "must" bij het besturen van een huurauto door Beieren of München is een bezoek aan het beroemde Neuschwanstein kasteel. De schoonheid van het sprookjesachtige kasteel van koning Ludwig II is ver over de grenzen van het land bekend. Een rondleiding door het beroemde kasteel is beschikbaar. Laat u betoveren door de indrukwekkende architectuur en de ongelooflijk rijke rijkdom. Het is immers niet voor niets dat kasteel Neuschwanstein de bijnaam "sprookjesachtig kasteel" krijgt.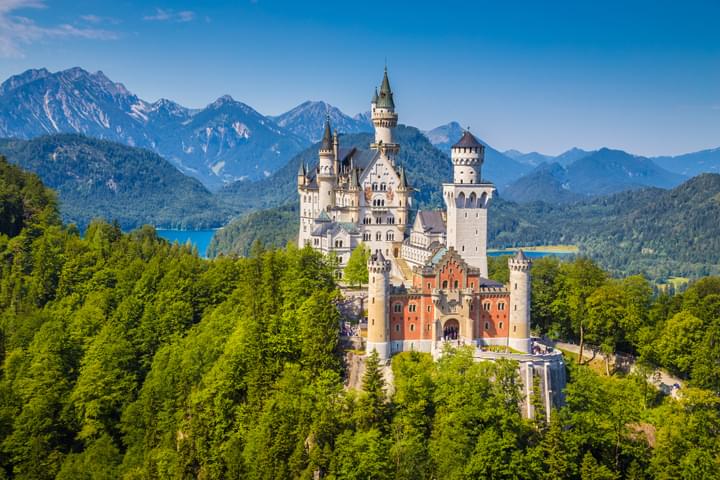 Kasteel Neuschwanstein