Autoverhuur Georgië: Combineer natuur en cultuur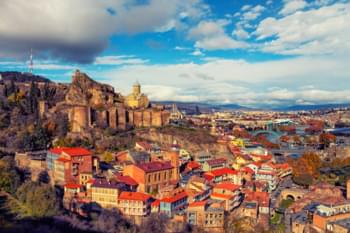 Uitzicht over Tbilisi, Georgië
Veel van de bezienswaardigheden van Georgië zijn ingebed in een adembenemend landschap. Dus wat is een betere manier om de omgeving te verkennen dan door het huren van een eigen auto? Met een huurauto in Georgië bent u altijd flexibel en onafhankelijk van het openbaar vervoer. Op deze manier kunt u al uw gewenste bestemmingen comfortabel bereiken met een huurauto en neemt u zoveel tijd als u wilt.
Aarzel niet lang, maar kijk eens naar MietwagenCheck. Onze portal vergelijkt autoverhuur aanbiedingen voor Georgië en geeft de autoverhuur prijzen transparant weer. Zo kunt u ontspannen en uw welverdiende vakantie in Georgië beginnen!
Autohuur Georgia: Waar kan ik mijn huurauto ophalen?
U kunt uw huurauto ophalen in Tbilisi, Batumi, Kutaisi of direct op een van deze Georgische luchthavens:
Welke extra opties kan ik kiezen voor mijn huurauto in Georgië?
Bij MietwagenCheck heeft u de keuze tussen verschillende automodellen (Kompaktklasse, 7-8 zitplaatsen , SUV). U kunt ook extra opties boeken voor uw huurauto. Wat vindt u bijvoorbeeld van een huurauto met automatische transmissie of airconditioning? Wat de perfecte huurauto voor u ook is, u vindt deze op ons portaal!
Wij adviseren Sluit een volledige verzekering af zonder eigen risico. Ook in geval van schade ontstaan er geen extra kosten!
Ontdek de hoogtepunten van Georgië met een huurauto
Combineer natuur en cultuur tijdens uw vakantie in Georgië. Veel van de bezienswaardigheden liggen midden in een fascinerend landschap en zijn de ideale bestemming voor een excursie met een huurauto. Maar zelfs bij slecht weer hoeft u zich geen zorgen te maken over verveling in Georgië. Rijd gewoon met de huurauto naar een van de vele musea. Tijdens uw vakantie in Georgië moet u zeker de volgende hoogtepunten hebben bezocht:
pauwstaartstaart
Nariqala
Wardsia
opstanden
gelati
Dawit Garedscha
Dschwari
Ushba
comité
Josef Stalin Museum
Kartlis Deda
MietwagenCheck wenst u een prettige en vooral veilige reis met uw huurauto en veel plezier in Georgië!